Taylor Kitsch In Talks For Oliver Stone's 'Savages'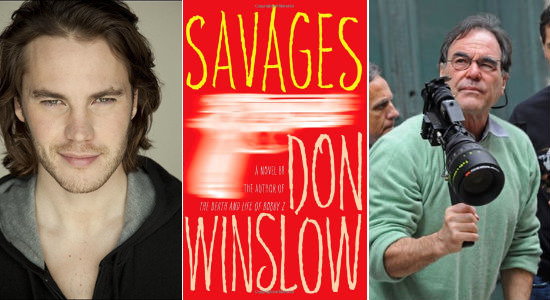 A year ago Oliver Stone signed up to direct an adaptation of the Don Winslow novel Savages, and a month ago Jennifer Lawrence (Winter's Bone, X-Men: First Class, The Hunger Games) was set for a key role.
But some things have changed. While Oliver Stone is still making the movie, Jennifer Lawrence has dropped out thanks to her schedule for The Hunger Games. While her role has to be recast, Taylor Kitsch (Friday Night Lights) is now in talks to play one of the two main roles, and Salma Hayek is being eyed for another.
Deadline says that Taylor Kitsch is in talks for one of two pot growers who are coerced into working for a Mexican drug cartel after the cartel kidnaps their young female friend. Aaron Johnson is looking like he'll be the other grower, and Salma Hayek is reportedly a main choice to play one of the cartel leaders, "an iron-fisted beauty who becomes intrigued and practically maternal over the kidnapped gal."
The kidnapped girl was to be Jennifer Lawrence's role, but now that may fall to any of a number of other actresses. One name mentioned is Olivia Wilde. The script is by Shane Salerno and Don Winslow; at this point the picture is set up as an indie, but Universal and two other studios are vying to acquire distribution rights.
Here's the recap of the novel:
Spare, clipped expository prose and hip, spot-on dialogue propel this visceral crime novel from Winslow (The Dawn Patrol). The future is looking good for Laguna Beach, Calif., marijuana growers Ben and Chon, until they receive an ominous e-mail from the Baja Cartel. Attached is a photograph showing the decapitated bodies of other independent drug dealers. The message is clear: sell your product through us or else. Ben and Chon try to resist, but matters escalate after cartel thugs abduct Ophelia, the guys' beautiful young playmate and accomplice, and hold her for a cool million ransom. Meanwhile, Elena "La Reina" Sanchez Lauter, the leader of the Baja Cartel, must deal with rival drug gangs and potential overthrow from within. Ben and Chon propose a trade that Elena can't refuse, setting the stage for the violent and utterly satisfying ending. Winslow's encyclopedic knowledge of the border drug trade lends authenticity.