Joseph Gordon-Levitt Is Alberto Falcone In 'The Dark Knight Rises'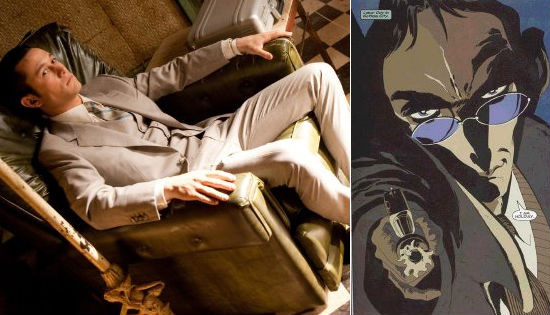 The speculation is over and sometimes, rumors are true. Variety is reporting that Joseph Gordon-Levitt is indeed playing Alberto Falcone, son of former mob boss Carmine Falcone (Tom Wilkinson) in Christopher Nolan's The Dark Knight Rises. We knew that Gordon-Levitt was cast in the film in early February and we speculated that the role could be Falcone a few days after. Carmine Falcone was a major villain in Nolan's 2005 film Batman Begins and his son, Alberto, is believed to be Holiday, the main villain in one of Nolan's favorite and most referenced Batman stories: The Long Halloween. Read more after the jump.
Variety exclusively reported the confirmation, though Warner Brothers declined to comment. There's no word if Alberto will actually become Holiday like in The Long Halloween or just be more of a general nuisance to Batman, like his father was. But when we reported this rumor a few months ago, many of you agreed that it fit in nicely with Nolan's story, both because Holiday, if he's one of the villains, is very realistic and also because it brings the story full circle.
The original rumor (which was nothing more than, now very poignant, fan conjecture at the time) was that Falcone comes back to Gotham to try and reclaim the city Batman helped take from his father. Also, it made sense because Selina Kyle (Anne Hathaway) believes Carmine Falcone is her father in the Batman/Catwoman storyline Catwoman: When in Rome.
So this adds another piece to the puzzle of The Dark Knight Rises, scheduled for release on July 20, 2012. Confirmed characters include Catwoman, Bane and Alberto Falcone. How do you figure they all fit in? Will the League of Shadows reappear? How influential will The Long Halloween, once again, be? Do you think Gordon-Levitt is right for this role?