Page 2: Star Wars, Harry Potter, Alec Baldwin, Futurama, The Beaver, Underworld, Goonies, Greg Mottola, Big Lebowski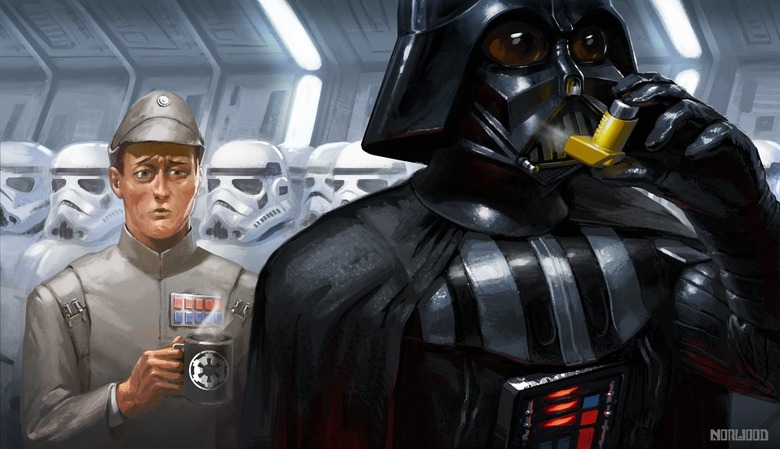 What is Page 2? Page 2 is a compilation of stories and news tidbits, which for whatever reason, didn't make the front page of /Film. After the jump we've included 36 different items, fun images, videos, casting tidbits, articles of interest and more. It's like a mystery grab bag of movie web related goodness. If you have any interesting items that we might've missed that you think should go in /Film's Page 2 – email us!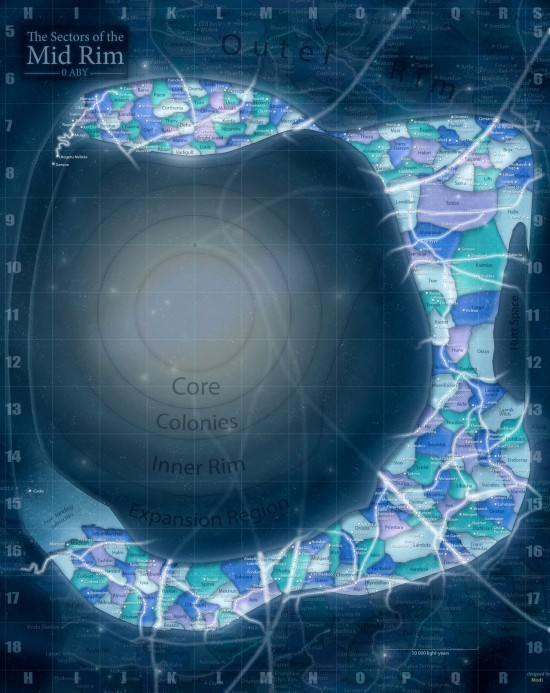 Illustrator Modi has charted the sectors of the Mid Rim, mapping out the boundaries within this section of space of the Star Wars universe.
The Playlist lists 5 Directors Who Could Take Over From Darren Aronofsky On The Wolverine.
/Film reader Jeff Y's latest CINEMASHUP is called "The Dude" and it recuts the Coen Brothers' stoner classic The Big Lebowski to a track by Quincy Jones– also called "The Dude."
Bill Hader tells Collider how he came to be credited as a creative consultant on the 12th season of South Park:
I'm good friends with Trey and Matt. They asked me to come in on their South Park retreat. They have these retreats where you go to Seattle. One year we went to Boston. You just go and it's like a dream. You go to an awesome place and stay in an awesome hotel and just for a couple of hours a day you swim around in South Park ideas. The first retreat I went on they seem to like...it just seemed to gel. It's mostly those guys. I kind of hang out in the room. That is where I met Vernon Chatman and we started writing stuff together and now we are writing that movie for Scott Rudin. It's very chill and then in the 13th season they actually brought me in as a writer and I actually wrote on the show for part of that season. I'm doing it again this season too. In April I'm going out there for three weeks. It's just awesome. You hang out for a couple of hours just working out these ideas. It's very peaceful. Just a couple of people in a room with Trey and Matt. It's like a dream come true.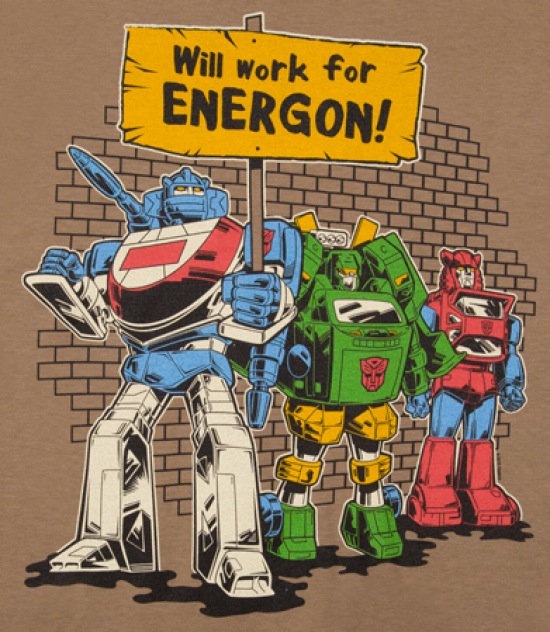 This Transformers t-shirt features Wheeljack, Hoist and Cliffjumper begging for work: "Will Work For Energon!"Christopher Campbell wonders how documentaries could be changed for the better (I contributed to the group of critics that Campbell surveyed).
Watch some b-roll footage from the filming of Jodie Foster's The Beaver.
Trivia: Alec Baldwin claims that he lost out on Patriot Games because Paramount owed another actor (probably Harrison Ford) money:
The run of events in 1991 went like this. John McTiernan, who directed The Hunt For Red October, called me repeatedly over a period of a few days and that got my attention because John was not someone who did that. I knew it must be something important. I had been traveling to Syracuse to see my mother who had been diagnosed with breast cancer. I had lost my dad in 1983 to lung cancer when he was fifty-five and the idea of being an orphan, technically speaking, at the age of 33 weighed heavily on me. It took a few rounds before John and I connected. On the phone, John told me that during the period of the previous few months, he had been negotiating to do a film with a very famous movie star who had dropped out of his film days before so that he could go star in the sequels to The Hunt For Red October. John further told me that Paramount owed the actor a large sum of money for a greenlit film that fell apart prior to this, and pushing me aside would help to alleviate that debt and put someone with much greater strength at the box office than mine in the role. I sat there mildly stunned because not only was I in an active negotiation with Paramount, but for them to negotiate simultaneously with another actor was against the law. My mother was about to have a double mastectomy. I asked John if he was sure about all of this and he said yes, he had talked with the famous actor directly who confirmed the story. All of this served to explain why the studio would not close my deal over what I thought were some relatively arbitrary issues surrounding the dates of production.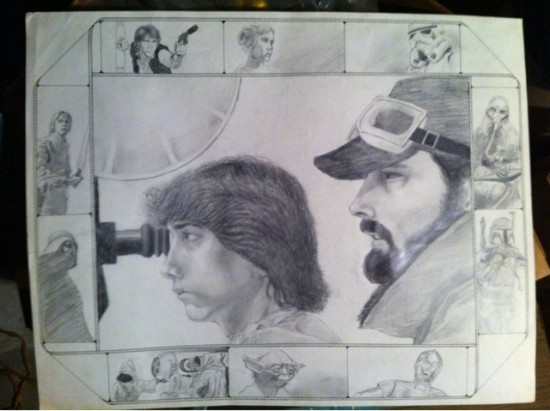 Paul/Adventureland director Greg Mottolla has tweeted "the dorkiest thing I ever made. self portrait, age 17, 80s hair".Diary Of A Wimpy Kid 3 is already in the works.
Due to the amount of graphics and images included in Page 2, we have to split this post over a BUNCH pages. Click the link above to continue the second page of Page 2.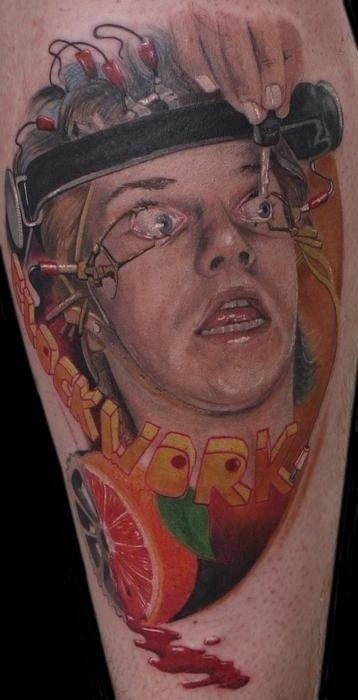 Clockwork Orange tattoo.Leslie Hope (24) will star in ABC's drama pilot The River, a thriller/horror drama from Paranormal Activity director Oren Peli.
Watch the movie trailer for Wayne Wang's new film Snow Flower and the Secret Fan, based on Lisa See's bestselling novel, starring Gianna Jun and Li Bing Bing.
ScriptShadow reviews The Orphanage scribe Sergio G. Sanchez's 2010 Black List screenplay for The Impossible, about the "real life story of a vacationing family's struggle to find each other after the infamous 2004 Indian Ocean Tsunami":
The Impossible is an emotionally draining read. And a strange one when compared against traditional storytelling practices. In the first 20 pages alone, nothing happens. And I mean nothing. The family lands in Thailand. They give each other Christmas gifts. But we don't learn ANYTHING about these people. No problems, no issues, no eccentricities, no personality traits. It would be like getting a real-life snapshot of a family for a few hours. Chances are their interactions would be directionless and boring. ... Just on a visceral level, The Impossible sticks with you. It's a reminder that unless you've lived something or done a ton of research on something, you won't be able to convey a truly realistic vision of what you're writing about. ... It's very specific stuff that I don't think a fictionalized account of this tragedy could've captured.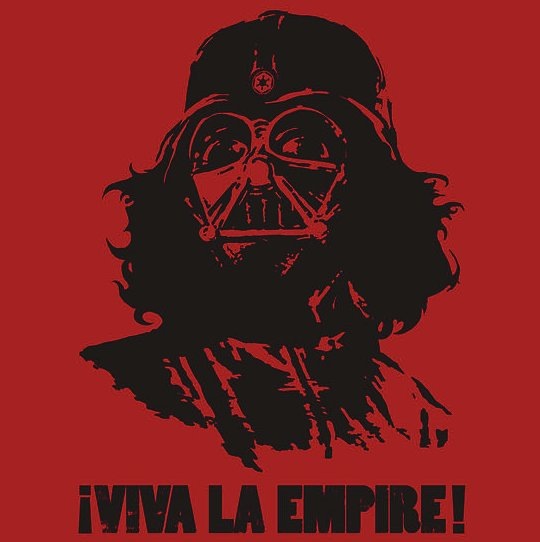 Viva La Empire! T-Shirt available on RedBubble.
Trivia: Todd Phillips actually auditioned Zach Galifianakis for Road Trip: "Zach came in and read for 'Road Trip' before Tom [Green] signed on. I've known Zach forever and I've always thought this guy is super. Zach always tells a funny story that on 'Road Trip' when he came in to meet me I said that I don't shake hands and I had a cold. Now that he knows me he knows I was lying but I just don't like to touch a lot of people but that he knew that and I was a total asshole but you meet a million people when you're doing casting. They're always sweating because they're nervous but Zach was always the guy I had in the back of my head and thought he was great."
Rose Byrne talks about Moira MacTaggert's CIA connections In X-Men: First ClassChloe Sevigny is developing a miniseries about infamous ax murderer Lizzie Borden.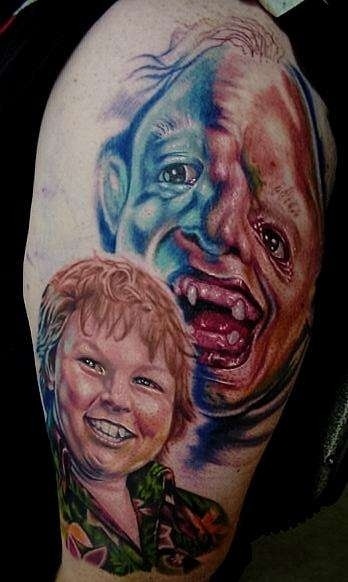 Goonies tattoo.Danny Trejo has joined the cast of Pendejo, a romantic comedy by writer/director Jairaj Walia.
Due to the amount of graphics and images included in Page 2, we have to split this post over a BUNCH pages. Click the link above to continue the third page of Page 2.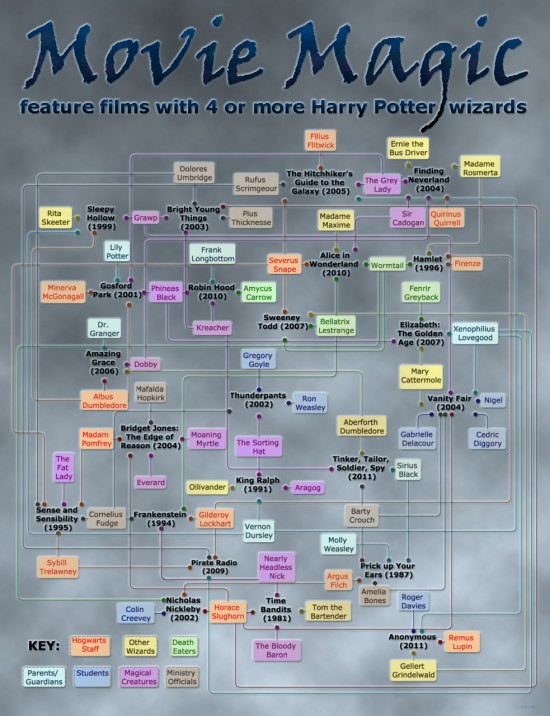 This flowchart diagrams all the films which feature four or more actors from the Harry Potter films.
James Cameron, Jeffrey Katzenberg, George Lucas and Chris Meledandri are set to appear together on a panel at CinemaCon.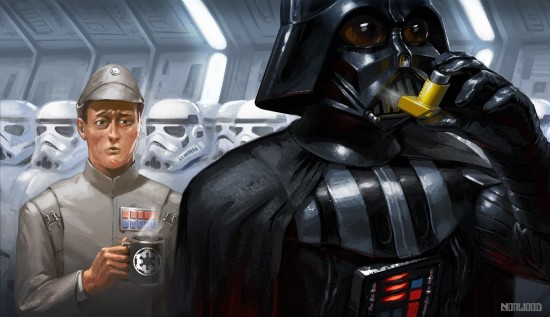 Norwood Cole created this Star Wars illustration featuring an asthmatic Darth Vader.
Io9 lists 10 script revisions that Spider-Man: Turn Off The Dark desperately needs.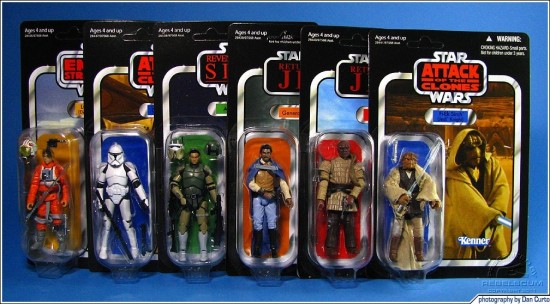 Rebel Scum takes a look at the 6th wave of Hasbro's Star Wars vintage collection action figures.Jared Leto will narrate TT3D, a 3D movie about the TT, the world-famous annual motorcycle race that takes place on the Isle of Man.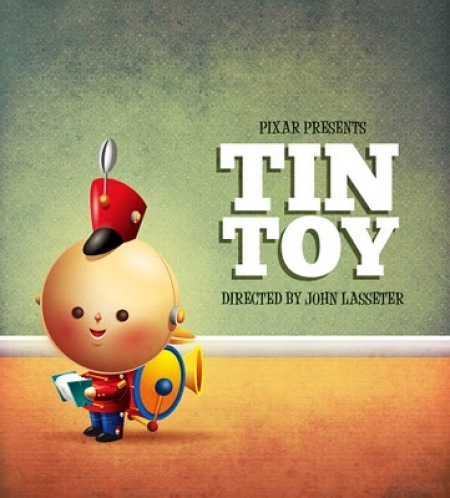 Jerrod Maruyama created this illustration inspired by Pixar's Tin Toy.Ryan Phillippe talks to Rotten Tomatoes about his five favorite movies: Cool Hand Luke, The Sand Pebbles, The Graduate, Fargo and Raging Bull.
[No photo]
TooFab has posted the first photo of Kate Beckinsale in full costume on the set of Underworld: New Dawn.Business Pundit lists Top 20 Epically Dysfunctional Rich Families.
Due to the amount of graphics and images included in Page 2, we have to split this post over a BUNCH pages. Click the link above to continue the fourth page of Page 2.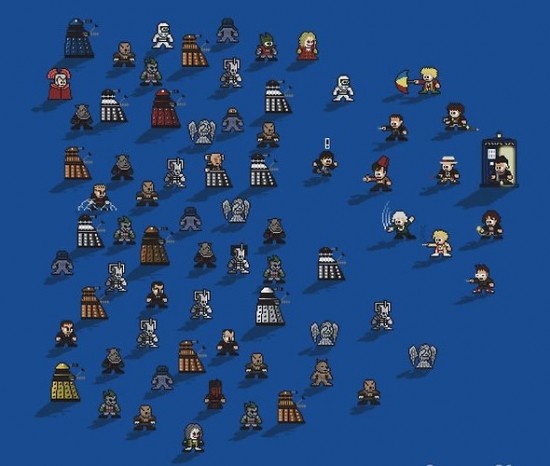 Check out this 8-bit Doctor Who t-shirt design.io9 lists 10 Coolest Time Machines in the Space-Time Continuum.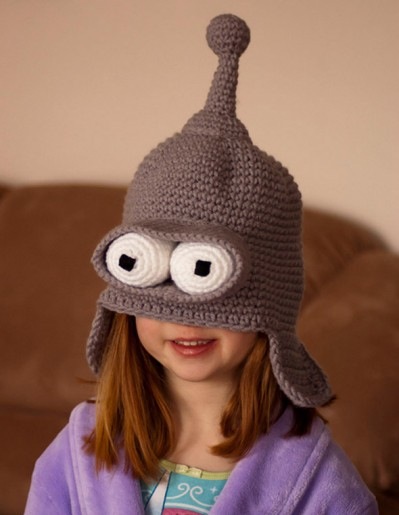 Movieline lists The 8 Stages of Oscar Winners Who Move to TV.Watch three video clips from Jodie Foster's Mel Gibson drama The Beaver.
Academy Award winner Hans Zimmer is assisting with the soundtrack for the video game sci-fi shooter Crysis.