Val Kilmer Goes Back To The West In 'The First Ride Of Wyatt Earp'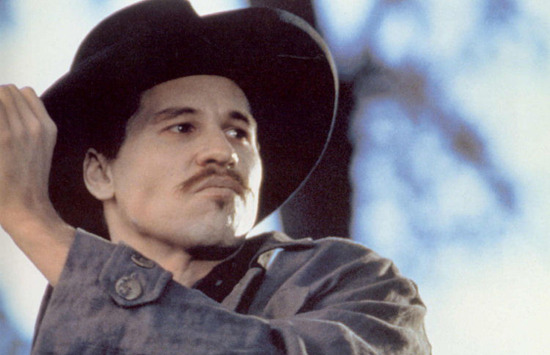 Val Kilmer has been part of the Wyatt Earp story once before, playing Doc Holliday in Tombstone. ("I'm your huckleberry" should be a line etched into the brain of any western fan.)
Now he's going back to the classic tale, and this time he's playing Wyatt Earp, in the indie western The First Ride of Wyatt Earp.
The film was written by Darren Benjamin Shepherd, and will be directed by Mike Feifer. The story, says Variety, " finds an elderly Earp sitting down with a reporter to reflect on the ride that made him a legend, when the young marshal rounded up a posse to track down the outlaw who mistakenly murdered the woman he loved."
So will Val Kilmer play both the older Earp and the younger? Right now we don't know. Wilson Bethel plays Doc Holliday, Daniel Booko plays Spike Kennedy, and Trace Adkins, Miracle Laurie, Steven Grayhm and Mason Cook are in the cast.
I love that the success of True Grit is helping some indie westerns move forward, and I also love the idea of seeing Val Kilmer in another western, even when it is a return to a story in which he's already taken part.
But the resume of Mike Feifer doesn't inspire a lot of confidence: it is littered with a bunch of direct to video films about seral killers such as Ted Bundy, Ed Gein, and Dennis Rader, the BTK killer. He also directed Abandoned, perhaps most famous for being Brittany Murphy's last film. But everyone deserves a chance to step up; maybe Mike Feifer will be our huckleberry with this one.
The First Ride of Wyatt Earp is in production now in California.