Shia LaBeouf Attached To Star In And Assist In The Development Of 'Horns' Adaptation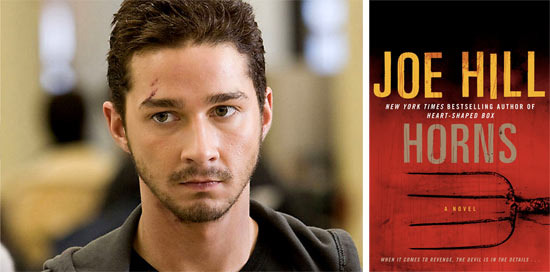 For years, we've awaited developments on the planned feature adaptations of the two novels by author Joe Hill — the son of Stephen King — but studios continued to sit on the rights with little movement. Recently though, he caught a break with his comic book series Locke & Key, which Fox is bringing to the small screen under the supervision of showrunner Josh Friedman (the man behind Terminator: The Sarah Connor Chronicles) and producers Alex Kurtzman and Roberto Orci. And now he's catching another one: Progress is finally being made on Mandalay Pictures' adaptation of his bestseller Horns, about a man who wakes up one morning to find horns growing out of his head. Learn more after the break.
Variety is saying that Shia LaBeouf is attached to star in the film, and "will be closely involved in the project's development". Does that mean LaBeouf might've had something to do with the studio moving forward on the book after two years of inactivity? That sounds like a possibility, as one of the film's producers, Cathy Schulman (Crash), noted that Shia "responded to this novel with total enthusiasm from the beginning. We share a passion to bring the iconic character of Ig Perrish to life."
LaBeouf is, naturally, playing the aforementioned Ig Perrish, "a 26-year-old who awakens from a black-out hangover to find horns sprouting from his head. As his horns grow bigger, Ig sets out to investigate the unsolved murder of his girlfriend and the case's connection to his cursed fate." The book is described as "a love story driven by horror and vengeance".
Shia LaBeouf has been on the receiving end of some serious backlash in recent years, presumably due to his constantly popping up in so many of Hollywood's blatant attempts to wring additional life money out of beloved properties (e.g., Indiana Jones, Transformers, Wall Street) regardless of how well he's suited for the material. But Horns sounds like it will be a smaller scale, more character driven tale, so hopefully people won't immediately reject his presence. This could be his chance to win back some audience support.
Adapting the book is Keith Bunin, one of the writers for the HBO series In Treatment and screenwriter of Michel Gondry's in-development The Return of the Ice Kids. Cathy Schulman will be sharing producing duties with Peter Guber (Batman), and author Joe Hill will executive produce.
There's still no word on what's going on with Hill's other book, Heart-Shaped Box, which last had Neil Jordan attached as writer and director for Warner Bros. Maybe if Horns finds an audience, that film will finally be able to see the light of day as well.
Here's the full plot synopsis of Horns:
At first Ig thought the horns were a hallucination, the product of a mind damaged by rage and grief. He had spent the last year in a lonely, private purgatory, following the death of his beloved, Merrin Williams, who was raped and murdered under inexplicable circumstances. A mental breakdown would have been the most natural thing in the world. But there was nothing natural about the horns, which were all too real.
Once the righteous Ig had enjoyed the life of the blessed: born into privilege, the second son of a renowned musician and younger brother of a rising late-night TV star, he had security, wealth, and a place in his community. Ig had it all, and more—he had Merrin and a love founded on shared daydreams, mutual daring, and unlikely midsummer magic.
But Merrin's death damned all that. The only suspect in the crime, Ig was never charged or tried. And he was never cleared. In the court of public opinion in Gideon, New Hampshire, Ig is and always will be guilty because his rich and connected parents pulled strings to make the investigation go away. Nothing Ig can do, nothing he can say, matters. Everyone, it seems, including God, has abandoned him. Everyone, that is, but the devil inside...
Now Ig is possessed of a terrible new power to go with his terrible new look—a macabre talent he intends to use to find the monster who killed Merrin and destroyed his life. Being good and praying for the best got him nowhere. It's time for a little revenge... It's time the devil had his due...