Comic Bits: James Gunn Says 'Avengers' Script Is Great; Scooby-Doo To Appear On 'Batman: The Brave And The Bold'; January Jones Signed For 3 X-Men Films; Wolverine's First Comic Book Appearance Sells For $150K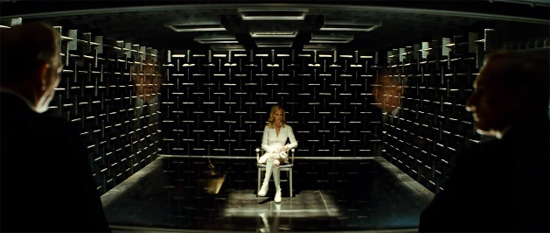 We've got quite a mix of comic book bits for you today, and unless you have something against crime-solving Great Danes, I'd say it's all happy news. Guess the ides of March aren't so scary after all.
After the jump, check out Slither director James Gunn's comments on Joss Whedon's The Avengers script, take a look at Scooby-Doo and company guest-starring on Cartoon Network's Batman: The Brave and the Bold, read about January Jones' possible future with the X-Men franchise, and find out exactly which comic book issue is special enough to be worth $150,000.
Everybody I know who's read it says it's by far the best script for a Marvel movie ever. I'm very, very excited about it. Nobody loves superheroes more than Joss. He's really got his heart in the right place.
I'm not surprised — character-driven ensemble stories and ass-kicking heroes are kind of Whedon's thing, as evidenced by his work on the Buffy the Vampire Slayer and the sorely missed Firefly. Still, it's nice to hear that our faith in Whedon isn't misguided.
Gunn also went on to call out Warner Bros. for their mishandling of the DC universe:
Warner Bros. is obviously fucking up. They don't know how to make a good superhero movie unless Christopher Nolan is involved to save their lives.
So... I'm guessing he's not so much looking forward to Zack Snyder's Superman, then?
Gunn's Super, starring Rainn Wilson and Ellen Page, opens April 1, while Whedon's The Avengers is slated for a May 2012 release.
In happier news for the DC universe, TV Guide posted a first look at Scooby-Doo and his compadres on an upcoming episode of Cartoon Network's Batman: The Brave and the Bold, titled "Batman's Strangest Cases." The episode features three different segments, each of which deals with a different version of Batman — from Mad Magazine, Japanese manga, and The New Scooby-Doo Movies television series from the 1970s. The Scooby-Doo section was filmed with Matthew Lillard and Mindy Cohn from Cartoon Network's Scooby-Doo! Mystery Incorporated. Producer James Tucker said that the animators were actively going for a '70s feel with the segment:
We took the old model sheets and [our animators] really nailed the style... It looks, for good or ill, like it was done in 1973.... If you put it up against those old episodes, I don't know if the untrained eye would be able to tell the difference.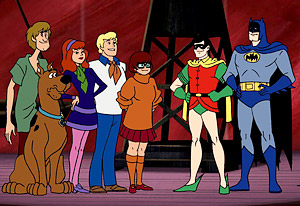 It's a small image, but I'd say the style is spot-on.
"Batman's Strangest Cases" will air April 1, and will be hosted by Bat-Mite, a devoted Batman fanboy played by Pee-wee Herman. It sounds like fun viewing for anyone who has a sense of humor about the long, strange history of the Caped Crusader.
Now, let's head back to the Marvel universe. A USA Today (via ComicBookMovie.com) interview with X-Men: First Class star Jones revealed that the actress had signed "a three-movie deal to play the buxom Emma Frost." I wouldn't read too much into this news just yet; it's common these days for film contracts to account for potential sequels, especially when it comes to big-budget franchises like the X-Men. But it does open up the possibility that we may be seeing Jones as Frost again in other X-Men or Marvel films. Whether she's worthy of stepping into Frost's boots a second time is something we'll find out June 3, when the movie opens.
Finally, a comic book bit involving Wolverine and a lot of zeroes: ComicBookMovie.com reports that the highest-graded copy of 1974's Incredible Hulk #181 recently sold for $150,000 on comiclink.com. The Bronze Age comic features the very first appearance of Wolverine in the Marvel universe [or his first full appearance, as he shows up on the last page of Hulk #180] and is considered one of the most, if not the most, valuable books from the era:
A Bronze Age comic has broken the six-figure ceiling with the single highest CGC graded example of Incredible Hulk #181, Wolverine's first full appearance, changing hands on ComicLink for $150,000. This lone 9.9 has long been estimated to be the single most valuable comic book of the 1970s, but it had never changed hands publicly until this sale a few weeks ago. This number sets a new standard for high grade comics from the Bronze Age and clearly demonstrates the popularity of Wolverine amongst collectors.
"It is a rare event when the single highest certified example of a comic as important as Incredible Hulk #181 changes hands," says ComicLink President Josh Nathanson. "This singular 9.9 has long been tucked away in a private collection, largely hidden away from public view. The sale of this book is not only a great example of the strength of the market for top graded keys, but also an incredible acquisition for the new owner! Think of the bragging rights!"
This comes on the heels of news from earlier this month that the Silver Age (roughly late 1950s – 1970) debut of Spider-Man, Amazing Fantasy #15, had sold for $1.1 million via comicconnect.com.