Another Lead Cast In 'Prometheus:' Logan Marshall-Green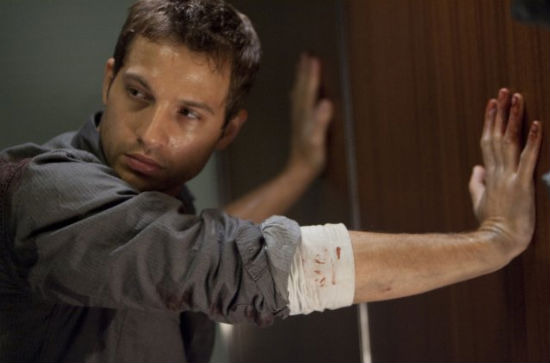 Another relative unknown with a familiar face has been cast in Ridley Scott's maybe Alien-spin-off Prometheus. Logan Marshall-Green, recently seen in Devil but who also started in Brooklyn's Finest and on The OC, has been cast as Holloway, a crew member on the ship and love interest for Noomi Rapace, who plays the main character Elizabeth Shaw. Marshall-Green now joins a cast that includes Rapace, Michael Fassbender, Charlize Theron, Idris Elba and Rafe Spall among others. Read more after the break.
Deadline reported Marshall-Green's casting, which seems like a surprise, as the actor isn't as busy as most other men his age around town.
Just to recap where we stand on Prometheus, the project began as an official prequel to the Ridley Scott movie Alien but, as the original script by Jonathan Spaihts was re-written by Lost co-creator Damon Lindelof, it became something all its own. A film with "Alien DNA" but a whole separate story. There's been much confusion on what specifically that means, but in interviews, all of the actors have confirmed that this movie has plenty to do with the Alien lore that Scott first created and was later continued by James Cameron, David Fincher and Jean-Pierre Jeunet.
The first role cast was the lead, bad ass female, Elizabeth Shaw, and she'll be played by Noomi Rapace, who first gained international fame as the original Girl With The Dragon Tattoo and will soon be seen in the Sherlock Holmes sequel, Sherlock Holmes: A Game of Shadows. Oscar-winner Charlize Theron will play the second female lead on the ship, Fassbender is an android and the rest of the characters, except Marshall-Green now, still remain mysteries. Filming begins this month.
Prometheus was originally scheduled for release next March but was bumped back to June 8, 2012. Even in a year that should includes new Star Trek, Superman and Batman films, this is certainly one of the most anticipated films scheduled for release.
Do you know Marshall-Green's work? Do you think he'll be able to play against Rapace?