Casting Bits: Brendan Fraser In 'Whole Lotta Sole;' Clifton Collins, Jr. In 'Hellbenders;' Hayley Atwell In 'I, Anna'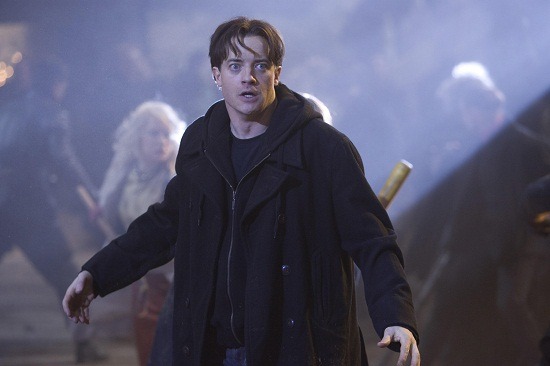 Terry George, who wrote and directed Hotel Rwanda and Reservation Road and wrote In the Name of the Father, has roped in Brendan Fraser to star in the comedy heist film Whole Lotta Sole. The film is written by Mr. George and Thomas Gallagher, and follows "a young man robbing a fish shop in order to pay off a gambling debt; the heist goes terribly — and humorously — awry when it turns into a hostage situation." Yep: robbing a fish shop.
Brendan Fraser is not the young man; he's the shopkeeper. (But he is trying to elude his father in law, a gangster.) He can be a solid actor, when not being called upon to mug and grimace in family adventures. No idea how this one will turn out, but we'll keep a lookout for the actors chosen to play the robber and gangster father in law. [Variety]
After the break, Clifton Collins, Jr. faces the supernatural and Hayley Atwell books an odd gig.
I can't say that Clifton Collins Jr. is always in the best movies, but I'm always happy to see him. Now he has signed on to J.T. Petty's 3D film Hellbenders, also written by the director, which follows " a secret group of elite demonologists in a Brooklyn diocese who battle a terrifying supernatural force that threatens their lives and faith." A horror film about supernatural scholars going out to fight real demons in the wild? OK, why not?
Clancy Brown and Dan Fogler are also in the cast; it shoots starting next week. [Variety]
Finally, Hayley Atwell (Captian America) is now part of the cast of I, Anna, which already features Gabriel Byrne and Charlotte Rampling. Based on the novel of the same name by Elsa Lewin, it is "a noir thriller told from the point of view of a femme fatale who falls for the detective in charge of a murder case." Interestingly enough, the film was already in mostly shot, so we'll be curious to see how she ends up in the film — she's playing the daughter of Charlotte Rampling's daughter. Framing story, perhaps?
Barnaby Southcombe wrote and directs as his feature debut. [Variety]