Watch The First Five Minutes Of 'Source Code'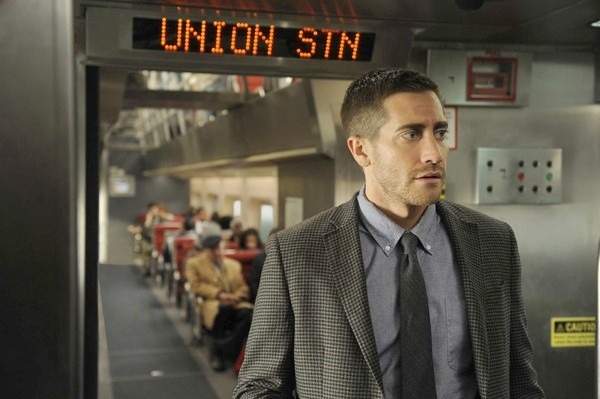 Duncan Jones, the man who made Moon (as his Twitter name states) is back with his sophomore film, Source Code. The mind-bending sci-fi film stars Jake Gyllenhaal as Colter Stevens, a military captain who somehow finds himself inside the body of another man for the final eight minutes of his life. In that time, he has to find out who blew up a train full of passengers before the bomber strikes again. Also starring Michelle Monaghan, Vera Farmiga and Jeffrey Wright, the film just had its world premiere at South by Southwest and will open everywhere on April 1. If you're exceedingly excited for the movie, Yahoo has posted the first five minutes, which really do suck you in. Check it out after the break.
Thanks to Yahoo Movies for the clip.
Having seen Source Code, I can tell you the first five minutes don't come close to giving you an idea of what to expect, both in a good way and a bad way. Unfortunately, the script (by Ben Ripley, not Duncan Jones) is a little uneven and at times concentrates on things that don't matter to the audience. It goes off on tangents while all you want to know are the answers to the mysteries of the main conflict – who is Captain Stevens, how did he get into the Source Code, what is the Source Code and who blew up the train? Whenever the film is focusing on those things, it's highly entertaining. But when Stevens goes off track – which he does a few times – the rest of the characters can't sustain the momentum of the movie.
That's just one man's opinion, though, and you'll all be able to make your own in a few weeks when Source Code opens everywhere. Did that clip add anything to what you already took from the trailers? Would you rather see Duncan Jones write and direct or just write?