Jennifer Lawrence Leads Race For 'Hunger Games' Role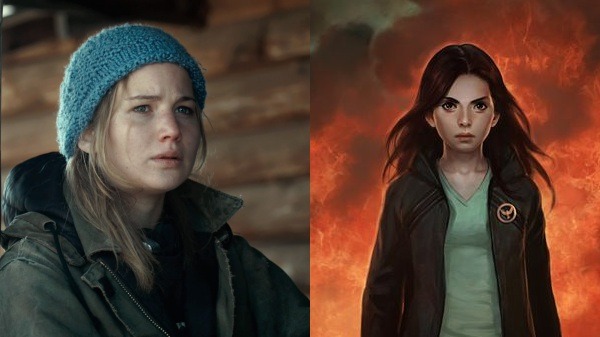 With just a year left until its projected release date of March 23, 2012, the casting race for Gary Ross' The Hunger Games adaptation is heating up. Last we heard, True Grit actress Hailee Steinfeld, Winter's Bone star Jennifer Lawrence, and Little Miss Sunshine's Abigail Breslin were the top contenders for the lead role of Katniss Everdeen. Now, it's looking like Lawrence is leading the pack. Read more after the jump.
The rumor fits with last week's news that I Am Number Four star Alex Pettyfer, who will be turning 21 next month, had been approached to play Katniss' love interest Peeta Mellark. At 20, Lawrence is four years older than the 16-year-old character and six years older than Breslin and Steinfeld, both 14.
Of course, casting older actors to play teenagers is nothing new in Hollywood — just look at 28-year-old Mark Salling, who plays a high schooler on Glee. The gap between Lawrence's age and the character's will keep growing as the series progresses, however. The Hunger Games is the first book in a trilogy. Assuming the films are spaced out about two years apart, by the end of the trilogy, Lawrence will be a 25- or 26-year-old playing a 17-year-old.
The blond-haired, blue-eyed Lawrence would also be a departure from the book's description of Katniss as being olive-skinned with dark hair and gray eyes. In terms of personality, though, I'd say Lawrence is an excellent fit. Katniss has some striking similarities to Lawrence's Winter's Bone character, Ree Dolly. Both characters are strong, no-nonsense young women who've lived extraordinarily tough lives. And as Lawrence was nominated for an Oscar for her turn as Ree, I'd say Katniss would be in good hands.
At any rate, I think it's safe to say we can expect to hear a firm decision shortly. Casting announcements for the other big roles — including Katniss and Peeta's mentor Haymitch, and Katniss' hometown friend Gale — should be starting soon as well.
And if you're not up on your YA literature, here's a synopsis of the book:
The Hunger Games is set in a dystopian future where the United States has been broken into 12 districts all controlled by a central government. Each year, the government forces the districts to select two children to compete in the nationally televised Hunger Games, a fight to the death where the winner brings glory – and food – to their district. The star is a 16-year-old named Katniss Everdeen who volunteers for the games when her little sister is chosen.
Discuss: Are you excited to see Lawrence as Katniss, or are you still hoping for a different actress? Does it bother you that Lawrence bears little physical resemblance to the book description?