'Spider-Man: Turn Off The Dark' Delayed A Sixth Time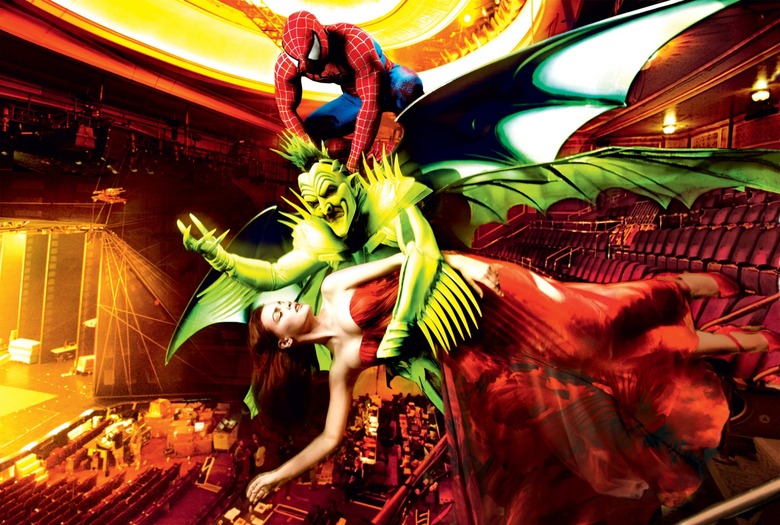 For the sixth time, Spider-Man will be missing his cue. On Friday, producers officially announced that their now infamous musical, Spider-Man: Turn Off the Dark, would be shut down from April 19-May 11 before reopening with all eyes set on a new opening date of June 14, a three-month delay. This is the culmination of several weeks of rumors and whisperings surrounding new creative voices influencing the show as well as the recent departure of director Julie Taymor, who had been working on Spider-Man for the better part of the decade. According to a press release, the delay is to rehearse and insert "significant and exciting revisions" into the show. Read more after the break.
Showbiz 411 first broke this news, which was then expanded on by several outlets including the New York Times.
Despite its problems, Spider-Man: Turn Off The Dark, which cost $65 million and counting, is currently one of the most successful musicals on Broadway, but that's probably just because it's kitschy. The early reviews were so harsh that everyone knew major changes had to be made in order for it to sustain the kind of success that would make it profitable in the long run. The show currently holds, and will continue to add to, the longest preview period in Broadway history.
According to reports, the original director Taymor wasn't receptive to the suggestions of many of the new parties and was forced out not only by producers, but U2's Bono and The Edge, who will now be writing new songs for the show.
On a personal note, since the show was scheduled to open on March 15, I purchased tickets to see the show on an upcoming trip back to New York. My performance, as of now, is still scheduled to happen but what exactly am I going to see? A performance of something that no one will ever see again? A very rough cut before a round of reshoots? Someone else's vision? I'm sure it'll be interesting but this whole thing has turned into an unprecedented mess.
Are you surprised about the sixth delay? Do you think the show is beyond saving?