'A Serbian Film' Gets Edited U.S. Theatrical Release, Uncut Online Release, May 13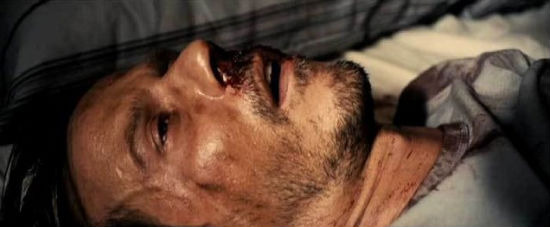 The film that could get you in trouble just for showing it, Srdjan Spasojevic's A Serbian Film, is actually going to be released in the United States. Invincible Pictures will release an edited version of the ultra-violent, controversial film in select theaters on May 13 and simultaneously release the full, unedited version, online. Read the full release and more about the controversy after the break.
ShockTillYouDrop published the press release, which you can read below:
Invincible Pictures announced today the theatrical release date for notorious thriller "A Serbian Film." On Friday, May 13th, an edited version of "A Serbian Film" – a film that genre vets have repeatedly encouraged audiences NOT to watch – will be released to select theaters throughout North America. An unrated version of the film will be released exclusively on FlixFling.com the same day.
"This is a excellent opportunity for FlixFling to offer something totally exclusive to our growing community," said Tom Ashley, CEO. "It was always our intention to release this film uncut, but given the recent charges against Sitges Film Festival director Angel Sala, we have decided to release an edited version of the film. We believe this film deserves to be seen as the filmmakers originally intended and hope to be able to release 'A Serbian Film' uncut in the future."
Touted as the most controversial film of all time, called "relentlessly horrifying" by one reviewer, "A Serbian Film" probes the life of Milos, a retired adult film star. Milos is lured out of retirement by a deep-pocketed director seeking to make the ultimate in art-house XXX film. What follows is the most depraved cinematic storytelling of a moral and political allegory ever seen. Consider yourself warned.
FlixFling is the new digital movie service that allows you to watch your favorite movies and shows, and "fling" or stream them from your media device of choice, including watching them within Facebook.
For more information visit SerbianFilmMovie.com.
In a previous story about A Serbian Film (the one where we wrote about the festival director who was cited for child pornography just for showing the movie) it was revealed that another festival wouldn't show the movie unless the filmmakers cut out over four minutes. That ultimately did not happen and there's no word on what changed in the interim or if more or less would be cut for this theatrical release. Even if they cut out three shots, though, I imagine most of the people who watch the movie on May 13 will watch the film online. Why go see "the most controversial film of all time" without the controversial pieces included in it?
Are you going to want to see A Serbian Film in May, and will you go to the theater to see it or just watch it online?