First Look: 'War Horse' Directed By Steven Spielberg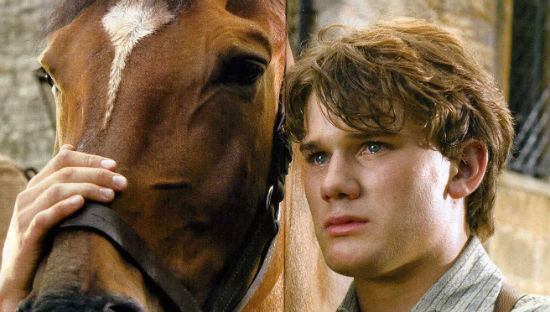 Three years have passed since we last saw a Steven Spielberg-directed film and it's been six since we saw a good one. After such a long layoff, it's insane to think that, come this December, we'll have two Spielberg films in theaters at the same time. First we'll get his 3D, motion capture film The Adventures of Tintin: Secret of the Unicorn on December 23 and then, December 28 brings the equine period epic War Horse. The first eight official photos from the latter film, which is based on a novel by Michael Morpurgo about a horse who travels far and wide to reunite with his owner during World War I, have just surfaced. Check them out after the break.
These images come from the latest issue of Entertainment Weekly and Empire but we got the scans from The Film Stage (and one photo from the Daily Mail as well)
Here's the official plot description of the film:
From director Steven Spielberg comes "War Horse," an epic adventure for audiences of all ages. Set against a sweeping canvas of rural England and Europe during the First World War, "War Horse" begins with the remarkable friendship between a horse named Joey and a young man called Albert, who tames and trains him. When they are forcefully parted, the film follows the extraordinary journey of the horse as he moves through the war, changing and inspiring the lives of all those he meets—British cavalry, German soldiers, and a French farmer and his granddaughter—before the story reaches its emotional climax in the heart of No Man's Land.
The First World War is experienced through the journey of this horse—an odyssey of joy and sorrow, passionate friendship and high adventure. "War Horse" is one of the great stories of friendship and war—a successful book, it was turned into a hugely successful international theatrical hit that is arriving on Broadway next year. It now comes to screen in an epic adaptation by one of the great directors in film history.
War Horse stars Tom Hiddleston, David Thewlis, Emily Watson and others. It's hard to get a sense of what a movie will be from a few photos, but these do as good a job as possible. This looks like the kind of story Spielberg will totally crush. Do you agree?