Page 2: Sucker Punch, Judd Apatow, Your Highness, Cars 2, The Walking Dead, George Lucas, Super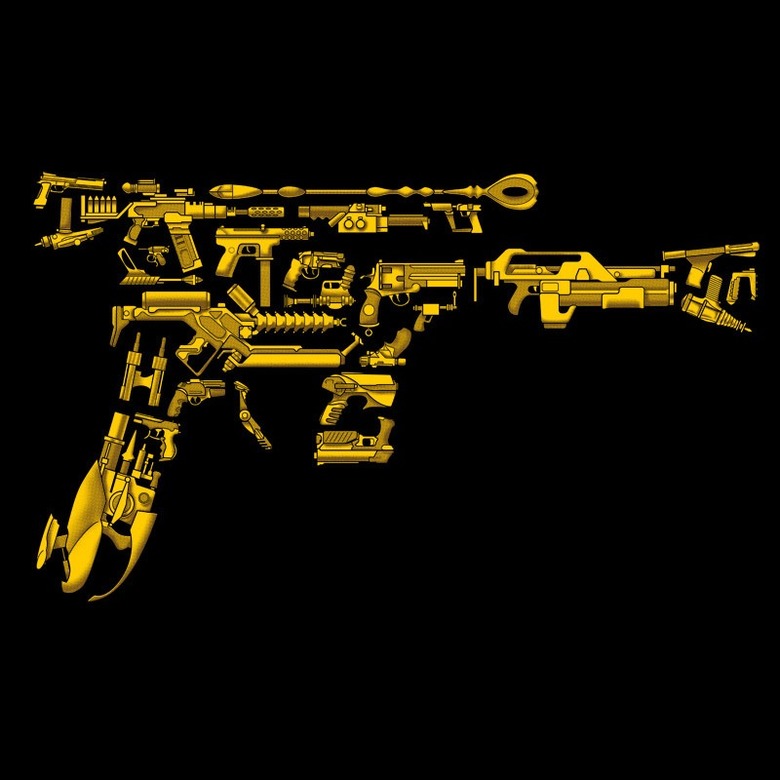 What is Page 2? Page 2 is a compilation of stories and news tidbits, which for whatever reason, didn't make the front page of /Film. After the jump we've included 46 different items, fun images, videos, casting tidbits, articles of interest and more. It's like a mystery grab bag of movie web related goodness. If you have any interesting items that we might've missed that you think should go in /Film's Page 2 – email us!
Ian Leino's "No Match For a Good Blaster" t-shirt design is "inspired by the classic Han Solo quote "Hokey religions and ancient weapons are no match for a good blaster at your side, kid." this design collects famous guns, blasters, disintigrators, rayguns and pulse pistols from 26 different movies and television shows (with a limit of just one weapon per franchise)."
Helen Mirren will be given the CinemaCon's Career Achievement Award on March 31st 2011.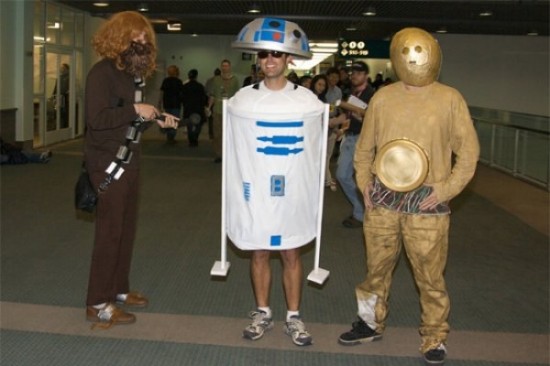 Star Wars cosplay gone wrong.
Clifton Collins Jr. is set to star in the supernatural horror film adaptation  Hellbenders for director J.T. Petty.
Fanboy looks back at a few Japanese commercials featuring George Lucas.
Simon Pegg confirmed that studio has asked him to "keep August and September open" for his return to the role of Scotty in the Star Trek sequel.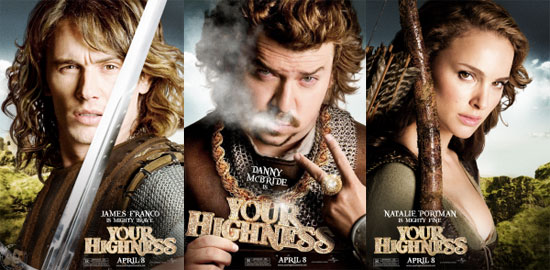 Universal has released a bunch of character posters for Your Highness on JoBlo, moviefone, and ign.
TRON: Legacy has been one of the most pirated films on torrent sites.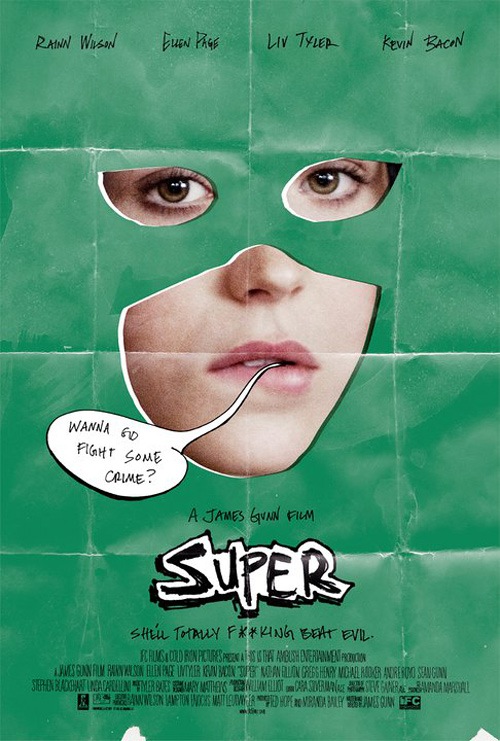 Here is a second character poster (this one Ellen Page focused) for James Gunn's Super.
Larry King is in talks for a contributor gig on Comedy Central's The Daily Show with Jon Stewart.
Due to the amount of graphics and images included in Page 2, we have to split this post over a BUNCH pages. Click the link above to continue the second page of Page 2.
Watch The Making of The Walking Dead.
Jonah Hill has lost 30 pounds for his new role in 21 Jump Street.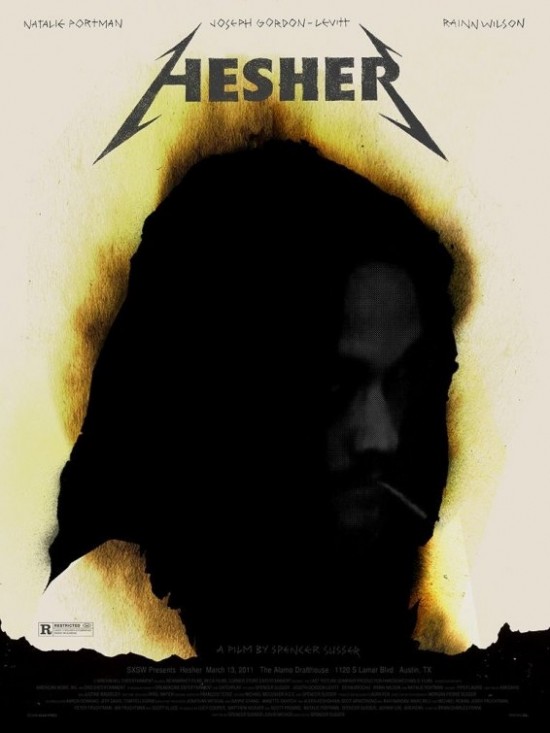 A new movie poster has been released for Hesher.
Tokyo Disneyland and Tokyo DisneySea have suspended operations due to the effect of the Tohoku Region Pacific Coast Earthquake on 3/11.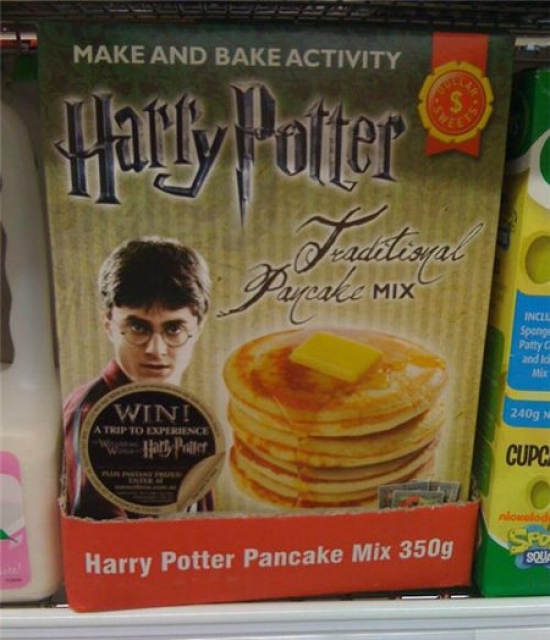 Harry Potter pancake mix? Really?!
Angelina Jolie has signed with United Talent Agency to represent her as a writer and director.
BTP has posted a photo of an impressive Pinocchio cake.
Nerd Bastards lists the top Ten Geeks/Nerds We all Love to Hate
IO9 takes a look at the kid-unfriendly coloring books of Dune.
Zoë Kravitz talks about playing Angel Salvadore in X-Men: First Class:
"When it comes to stuff like X-Men, I just didn't think that I would get that part. I just think I auditioned because people were auditioning and my agent was like, 'Please go', and had to talk me into going." ... "It was impersonal in so many ways. My character flies and I'll be wearing a harness and I'd be wearing wires all the time. Then I'd have to stand in strange ways, pretending there are not wires and pretending that I'm flying and floating, like it's the most normal thing in the world." ... "Also, Matthew Vaughn cares about the drama, it's not like he's trying to make things explode all the time, so you want to look the other actors in the eye and connect and connect. But it's kind of hard when all this other crazy stuff is going on"
Due to the amount of graphics and images included in Page 2, we have to split this post over a BUNCH pages. Click the link above to continue the third page of Page 2.
Gareth Edwards is profiled in this Reuters video "From Monsters to Godzilla"
Metallica's Lars Ulrich to has joined the cast of Nicole Kidman and Clive Owen's Hemingway & Gellhorn. Ulrich will play Dutch documentarian Joris Ivens in the TV movie.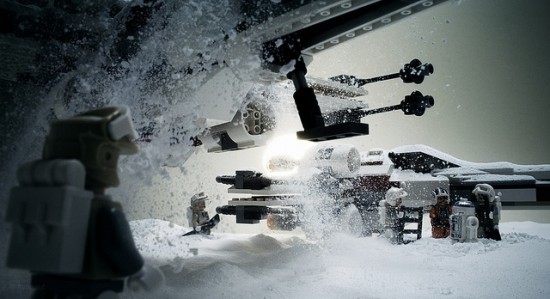 Avanaut has released another new LEGO Star Wars photo: "X-Wing Dawn Patrol"
Rumor has it that the revamped Goofy's Sky School roller coaster at Disney California Adventure will open on June 3rd 2011.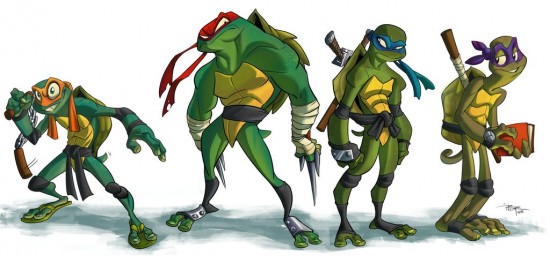 3nrique created this illustration of the Teenage Mutant Ninja Turtles.
UK financier claims it was tricked into putting up $7 million for the Wesley Snipes movie Game of Death and is suing for $8 million.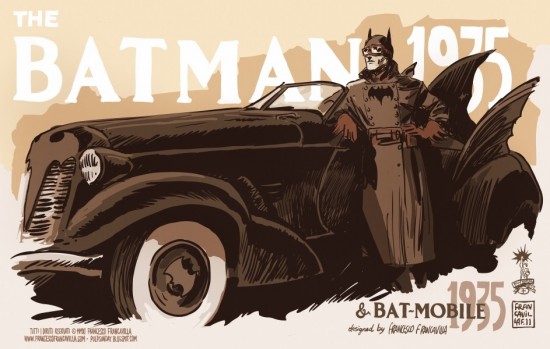 Francesco Francavilla created "Batman 1935"
ShortList lists the top ulikable film heroes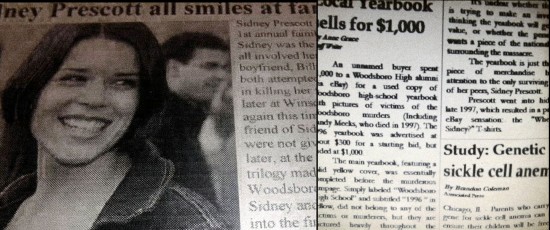 "Robert Prescott" posted a couple news clippings to Sidney Prescott's personal Facebook page as part of a possible Scream 4 viral campaign.
Filmmaker John Carpenter is on Twitter: @TheHorrorMaster.
Due to the amount of graphics and images included in Page 2, we have to split this post over a BUNCH pages. Click the link above to continue the fourth page of Page 2.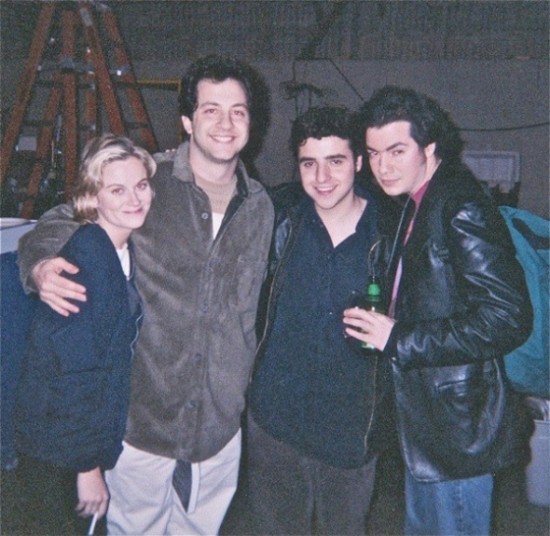 Judd Apatow posted a photo of Apatow, Amy Poehler, David Krumholtz, and Kevin Corrigan on the 1999 set of the television pilot Sick in the Head, which Apatow claims, "Came out great. Never ordered."
New Line/Warner Bros and ActorCast have launched a website where aspiring and experienced actors alike are able to submit themselves for Rock of Ages.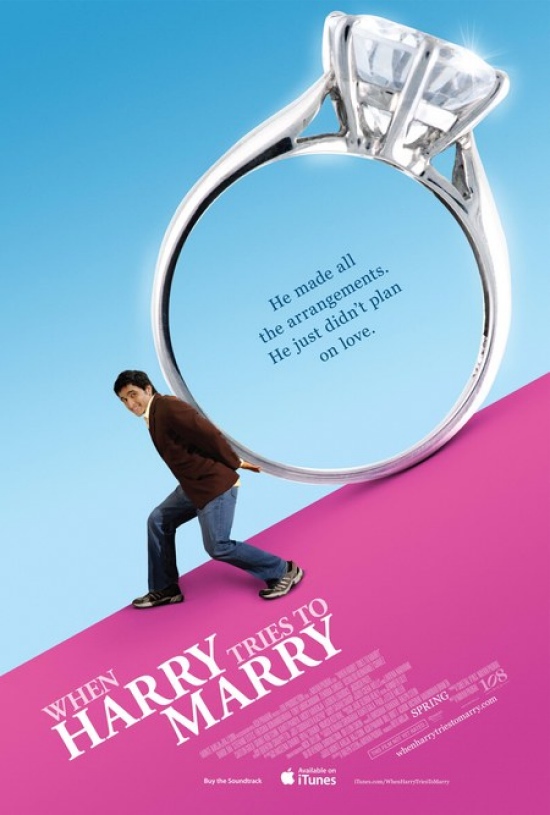 MovieWeb has premiered the movie poster for Harry Tries to Marry.
Dexter star Julie Benz has joined her No Ordinary Family co-star Michael Chiklis in CBS' untitled Susannah Grant supernatural medical drama pilot which Jonathan Demme is directing.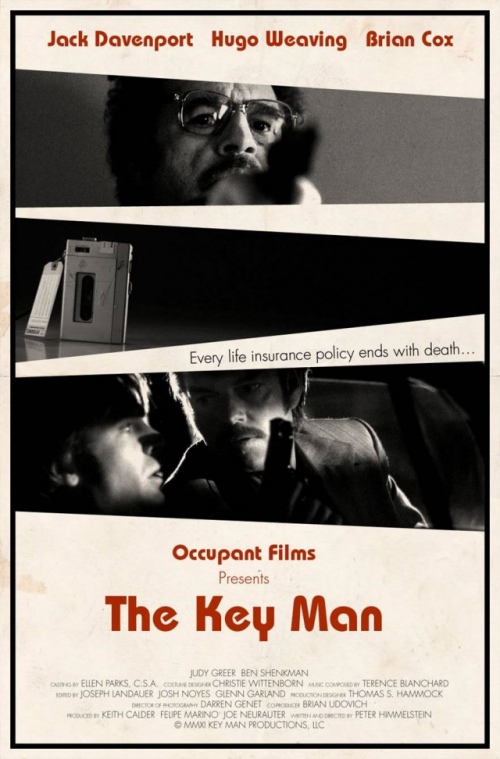 FilmSchoolRejects has premiered the movie poster for the SXSW film The Key Man.
Bradley Cooper would love to star in Baz Luhrmann's adaptation of F. Scott Fitzgerald 's novel The Great Gatsby.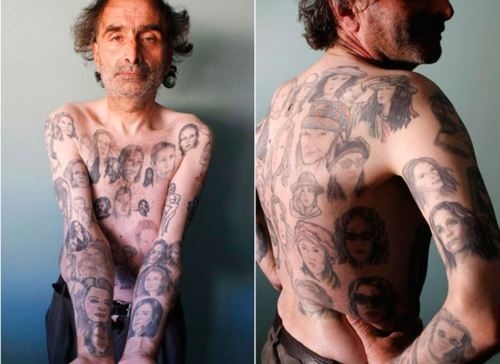 56-year old Mexican newspaper vendor Miljenko Parserisas Bukovic shows off his 82 Julia Roberts tattoos.
Matt Cook, the screenwriter behind the blacklisted crime drama 999, will adapt the Swedish novel Three Seconds for the big screen.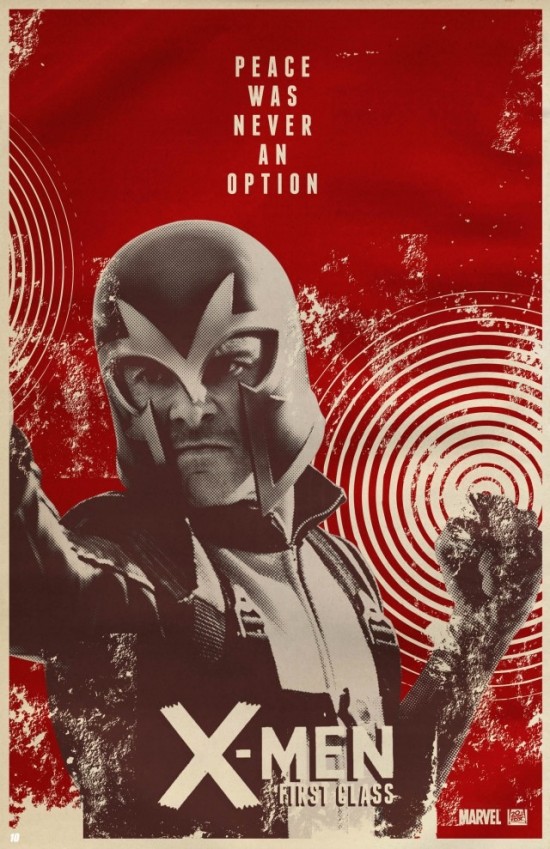 FSR asked readers to make a better X-Men: First Class movie poster than the studio released one-sheet and they did.
ScreenJunkies lists Top 11 Best Drug-Influenced Movie Scenes
Due to the amount of graphics and images included in Page 2, we have to split this post over a BUNCH pages. Click the link above to continue the fifth and final page of Page 2.
[No photo]
Collider has 45 images from Zack Snyder's Sucker Punch.
Ivan Reitman talks about a possible Private Parts sequel: "I spoke to Howard. He brings it up all the time. There is a great sequel story in it. But I doubt it will happen. If he's going to do another film, my guess is that it's probably not going to be the sequel to Private Parts."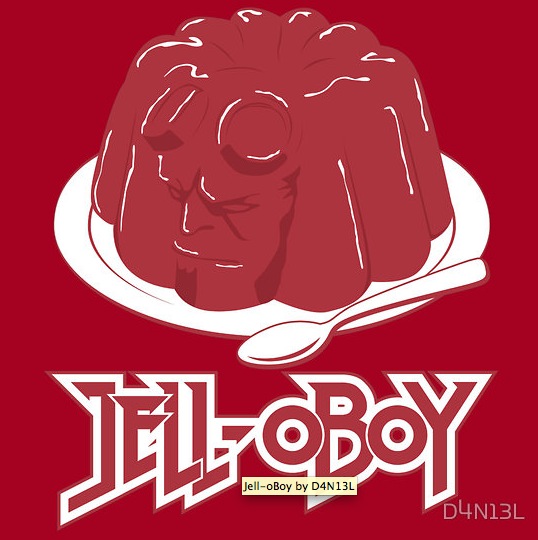 D4N13L's Hellboy-inspired Jell-o parody t-shirt Jell-oBoy is on sale on redbubble.
The Hollywood Reporter lists 5 things you didn't know about Battle: Los Angeles.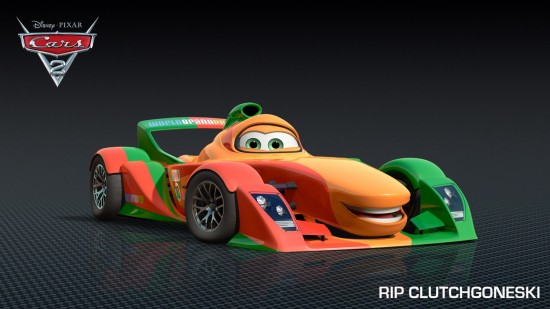 The newest character reveal for Cars 2 is Rip Clutchgoneski: "The former European colony and newly independent Republic of New Rearendia is desperate to put their name on the map — the #10 open-wheeled racer Rip Clutchgoneski is their best bet. After putting together a remarkable string of qualifying races, Rip's entry into the World Grand Prix is clearly the Cinderella story of the competition. Though Rip credits luck for his chance on the international stage, it's really skill and exuberance that brought the proud New Rearendian racer to the starting line."
A tsunami warning forced the cast of The Twilight Saga: Breaking Dawn to evacuate the Vancouver Island beach area in British Columbia.