'The Three Stooges' Moe Offered To Johnny Knoxville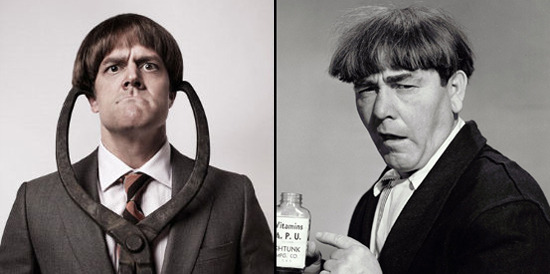 Johnny Knoxville was on the shortlist for the new cast of The Three Stooges almost from the moment the film was revived at Fox. (Writer/directors Peter and Bobby Farrelly once had Benicio Del Toro, Jim Carrey and Sean Penn set to stooge, but that version fell apart.) Now there is a report that an offer is out to Johnny Knoxville to play Moe. If he accepts, then we'll have a very good idea of how the cast for the film might come together.Variety reported the offer and says that the Farrelly camp is waiting for the actor to accept their offer.
The Brothers previously said that they would find one Stooge and then build the rest of the cast around him, so having Johnny Knoxville as Moe (as opposed to Benicio Del Toro — quite a difference) might suggest any number of things. We last heard that a very odd trio of actors (Justin Timberlake, Woody Harrelson and Larry David) had been approached about being Larry, and that a "host of unknowns" were in consideration for Curly. So who do you cast when Johnny Knoxville , a great physical performer whose actual acting hasn't really set the world on fire — is Moe? I'd almost love to see Larry David as Larry, but can't imagine that really happening.
The best recap of the movie as it stands now comes right from the Farrelly Brothers,
This isn't a Farrelly version of The Three Stooges. This is The Three Stooges. And, it's not a biopic, by the way. We've written three new episodes. The movie is actually three episodes that go back to back to back. Each one picks up where the other one left off. We want you to look at it and say, "It's Mo, Larry and Curly!," so we have very high standards on this route.