'Super 8' Trailer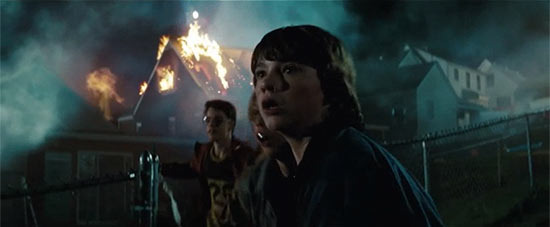 Get excited, folks. The full trailer for Super 8 has finally arrived.
We got our first real look at footage from the Steven Spielberg-produced, JJ Abrams-directed '80s throwback last month during the Super Bowl, but that was just a tease. This here ain't no measly 30-second spot. This is two-and-a-half minutes of pure nostalgic euphoria. It even has the Amblin logo at the beginning. And best of all, it manages to build anticipation without spoiling a single major plot detail. Check out the trailer after the break.
I won't dawdle. We can save reflections for after the trailer. Here it is:
Take note, studios. This is how you sell a movie. There is absolutely no reason to spoil every cool surprise and action beat that a movie has to offer; sometimes, it's possible to generate more excitement by leaving a little to the imagination. JJ Abrams knows this, and it's that philosophy that serves as a large part of why Super 8 is currently my most awaited movie of 2011.
The other part is, naturally, that the movie looks simply wonderful. Everything about the look and feel is spot-on, providing further evidence that Abrams' keen visual sense extends well beyond slick lens flare-enhanced action sequences. While the cinematography may be distinctly modern in exactly the way you'd expect from an Abrams film, it still manages to beautifully evoke the style of beloved family film classics from a bygone era. Similarly, the movie appears to have every intention of capturing the same heartfelt sentiment that's made Spielberg's past work so treasured. Even with all of the running and explosions and constant shocked expressions, the trailer nonetheless promises a heavily character driven film, providing numerous hints at the developing relationships between the young boy and his father, friends and gal pal.
Speaking of which, I have a strong hunch that there's one touching relationship we haven't been made privy to — that of the unbreakable bond between boy and alien. Part of me desperately wants that to be the case, because it's a subgenre that's produced some of my favorite films. And with the exception of E.T.: The Extra-Terrestrial, all of the best entries have been animated (see: The Iron Giant, How to Train Your Dragon, Lilo & Stitch). I think it's about time we had another great live-action "boy-and-his-dog" type of movie. What about you?
Here's the official plot synopsis:
In the summer of 1979, a group of friends in a small Ohio town witness a catastrophic train crash while making a super 8 movie and soon suspect that it was not an accident. Shortly after, unusual disappearances and inexplicable events begin to take place in town, and the local Deputy tries to uncover the truth – something more terrifying than any of them could have imagined.
Directed by J.J. Abrams from his original script, the Amblin Entertainment and Bad Robot Production film is produced by Steven Spielberg, Abrams and Bryan Burk.
The film stars Elle Fanning, Kyle Chandler, Ron Eldard, Noah Emmerich, Gabriel Basson, Joel Courtney, Ryan Lee, Zach Mills and Amanda Michalka.
Super 8 hits theaters June 10.