'The Smurfs' Trailer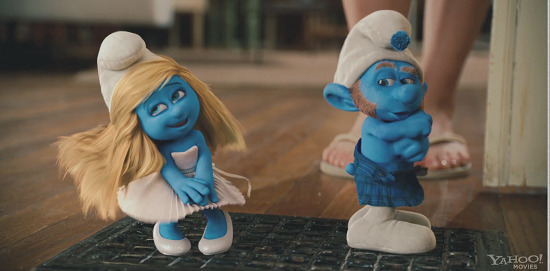 There is now a full-length trailer for The Smurfs, Sony's live-action/animated hybrid which brings updated CGI versions of the Smurfs to New York City, where they run riot through the lives of Neil Patrick Harris and Jayma Mays as they try to escape the clutches of the wizard Gargamel (Hank Azaria). If that doesn't sound like a horror film, that's because you haven't yet watched the trailer. Do so after the break, if you dare.
If there is a silver lining here, it is probably Hank Azaria's Gargamel, although even he looks like he's been pushed too much into self-aware post-modern villain mode. And he's not even trying to eat the Smurfs this time around, so Gargamel is over. At least 'smurf' still means anything you want it to, so there's room to interpret the trailer just about anyway you want.
Here's the cast rundown: Jonathan Winters as Papa Smurf, George Lopez as Grouchy Smurf, Katy Perry as Smurfette, Alan Cumming as Gutsy Smurf, Fred Armisen as Brainy Smurf, Anton Yelchin (Star Trek, Terminator Salvation) as Clumsy Smurf, Paul Reubens as Jokey Smurf, John Oliver as Vanity Smurf; Saturday Night Live's Kenan Thompson as Greedy Smurf, The Office's B.J. Novak as Baker Smurf; and comedian Jeff Foxworthy as Handy Smurf.
Yahoo has the trailer in clear, beautiful, incredibly painful HD.
When the evil wizard Gargamel chases the tiny blue Smurfs out of their village, they tumble from their magical world and into ours — in fact, smack dab in the middle of Central Park. Just three apples high and stuck in the Big Apple, the Smurfs must find a way to get back to their village before Gargamel tracks them down.