Cool Stuff: Mondo Posters For 'Close Encounters Of The Third Kind,' 'Hobo With A Shotgun' And 'The FP'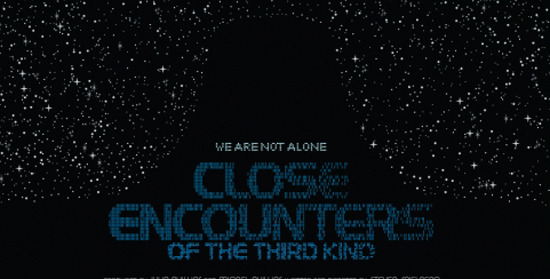 The latest batch of posters from Mondo, the retail outfit associated with the Alamo Drafthouse in Austin TX, is all over the place. Mondo is doing posters for several films playing the SXSW Film Festival in Austin next week, and we've already seen images for Paul, Moon and Source Code. Now there are two new SXSW posters: Hobo With a Shotgun and The FP, the latter being a film that premieres at the fest.
And then there is a great image for Steven Spielberg's early classic, Close Encounters of the Third Kind. Check out info on all the designs after the break.
First up is Close Encounters of the Third Kind. The posters — a blue regular edition of 300 and a red variant in an edition of 70 — are 24" x 36" hand-numbered screen prints by Todd Slater, and were printed by D&L Screen Printing. These go on sale Friday March 11 at a random time. Follow Mondo on Twitter to get the exact time announcement.
And then there is the ultra gory poster for Hobo With a Shotgun, a 24x36 image from Jeff Proctor which is already being called the bloodiest poster Mondo has ever done. Reminded me of Steve Dillon's art for Preacher in some respects, and while it isn't one that I need on my wall I'm sure the poster will appeal to some of the more [BD]
Finally, Tyler Stout has come up with this poster for The FP, which will debut as part of the SXFantastic program at SXSW. UGO debuted the poster, but didn't offer print run or sizing info. Like the other SXSW posters, The FP and Hobo With a Shotgun prints will be available during the festival, and remainders (if any) will be sold online at a date to be determined.
Here's the info on The FP:
Directors: Brandon and Jason Trost
Accompanied by his brother JTRO, Beat-Beat Revelation champion BTRO must compete for the pride of their hometown, Frazier Park (The FP). His opponent: ruthless fighter and trash talker, L Dubba E. L Dub not only defeats BTRO, he sends him to an early grave. L Dub's instant climb to power has forced The FP to fall into disarray. Crazed with anger, JTRO vows revenge. After a crash course in the ancient techniques of Beat-Beat from master BLT, JTRO challenges L Dubba E. Their battle to the finish, born of lust, power and revenge, will leave only one man standing.