Prepare Yourself For 'Macy's Thanksgiving Day Parade: The Movie'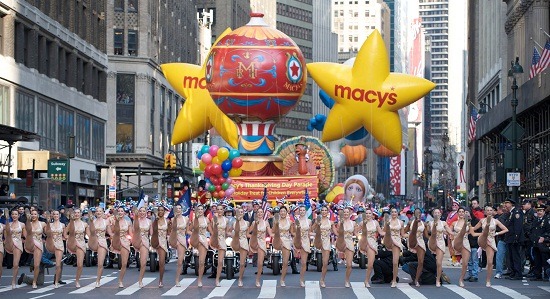 Macy's has already made a mark on film culture thanks to movies like Miracle on 34th Street, and draws millions of viewers every Thanksgiving Day for a parade in which giant inflatable characters are towed through the canyons of New York City streets. Additionally, there is a commercially thriving subgenre of films in which inanimate objects come to life in comedic and vaguely threatening ways.
So why not bring them together? Producers have made a deal for rights to the parade, and will develop a film about it. Will it involve giant Kermit and Snoopy floats coming to life and tearing each other to pieces? We can only hope.
Speaking to THR, producer Scott Glassgold says,
We're aiming to make a four-quadrant, family-friendly film somewhere in that Night At The Museum, Elf sweet spot.
There is no writer yet, but meetings are going on now. And, yeah, at least one concept involves floats coming to life, like a happy remix of the Ghostbusters climax.
So chew on that. This is a business atmosphere where many great ideas die on the vine and recognizance almost always trumps everything else. You can't make this shit up. A Macy's Day Parade movie should be a joke; instead it could well be a very real blockbuster.