Photos: New 'Kung Fu Panda 2' Characters Revealed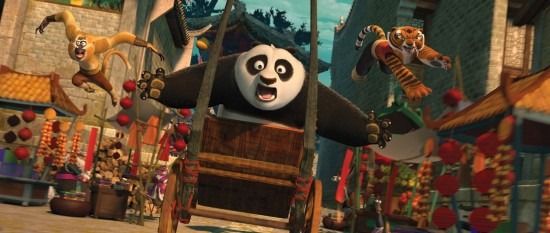 DreamWorks Animation has revealed a couple of the new characters we'll see in Kung Fu Panda 2 on the film's Facebook page. Hit the jump to check them out.
Here are some of the new characters:
Here is information on the new characters:
The Wolf Boss and his pack were once guards in Gongmen City's royal palace. Now he is Lord Shen's most loyal servant, military strategist and trusted right paw.
The Gorillas are the muscle in Lord Shen's army. If his evil schemes require any heavy lifting, they'll be the ones doing it. Shen's personal guard is made up entirely of these powerful (and powerfully large) brutes, who are honor bound to their master.
The aged Soothsayer has been advisor to the Peacocks, rulers of Gongmen City, her entire life. She is wise and gifted with knowledge of the future.
Lord Shen is hyper intelligent, supremely lethal, and burns with ambition. It's a combustible combination. He's intent on wiping out kung fu and taking over China. That puts him on a collision course with Po and The Five.
Thanks to /Film Reader Al Y for the tip.
Cast: Jack Black, Angelina Jolie, Dustin Hoffman, Jackie Chan, Seth Rogen, Lucy Liu, David Cross, James Hong, Gary Oldman, Michelle Yeoh, Jean-Claude Van Damme, Victor GarberFilmmakers: Produced by Melissa Cobb, Directed by Jennifer Yuh NelsonSynopsis: In KUNG FU PANDA 2, Po is now living his dream as The Dragon Warrior, protecting the Valley of Peace alongside his friends and fellow kung fu masters, The Furious Five. But Po's new life of awesomeness is threatened by the emergence of a formidable villain, who plans to use a secret, unstoppable weapon to conquer China and destroy kung fu. He must look to his past and uncover the secrets of his mysterious origins; only then will Po be able to unlock the strength he needs to succeed.Release: May 27, 2011