Stage Images: Daniel Radcliffe In 'How To Succeed In Business Without Really Trying'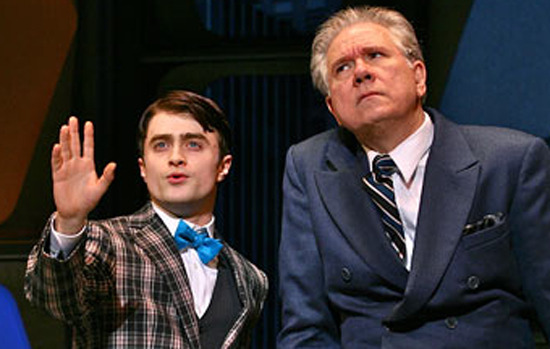 Daniel Radcliffe is very near the end of his run as Harry Potter, with Harry Potter and the Deathly Hallows Part II set to debut on July 15. The young actor made enough of an impression growing up in that role, however, that we've been anticipating his post-Potter work. On the movie side, there is only one film ready to go, the gothic horror story The Woman in Black. (See an image from that here.)
In between Harry Potter films, however, Daniel Radcliffe has done some stage work, primarily (or notoriously, depending upon your perspective) in the play Equus. Now he is in a revival of the musical How to Succeed in Business Without Really Trying, which opens on Broadway March 27 and also features John Larroquette, Tammy Blanchard and Rose Hemingway. The first shots of that production are after the break.
EW has the images, and the actor said of his character J. Pierrepont Finch, who climbs the corporate ladder with lightning speed,
Finch is a symbol of drive without any kind of maliciousness. There's an innocence to him, which is quite endearing. You forgive a lot of his actions that would otherwise be considered quite manipulative and unpleasant.
In other words, How to Succeed in Business is still being presented as the pre-'80s success story. The book upon which the musical is based was published in 1952, with the Broadway version premiering almost ten years later, in 1961. The costumes we see here suggest that this revival is keeping the period setting intact.