Cool Stuff: Quentin Vs. Coens Art Show Preview #1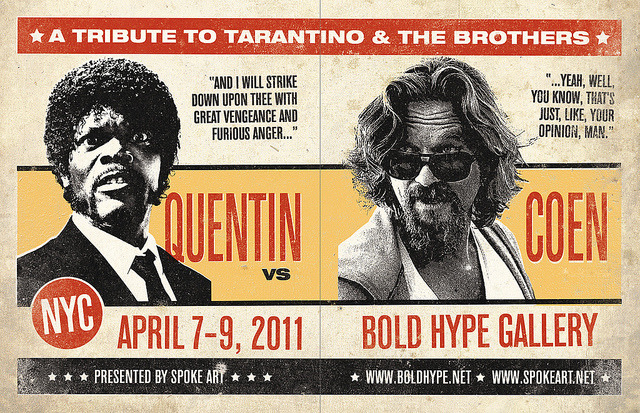 Quentin Tarantino and the Coen Brothers are, without a doubt, three of the most revered filmmakers working today. The release of a new film by Tarantino or the Coens insights a Pavlovian response in most film fans as each writer/director has such an incredibly high success rate, we're almost guaranteed to see, at the very least, a good movie, if not a great one. Pulp Fiction, Fargo, Reservoir Dogs, The Big Lebowski, Inglourious Basterds, No Country for Old Men, the list goes on and on.Spoke Art, the team behind the recent Wes Anderson-themed Bad Dads exhibit in San Francisco is traveling across country to New York for their next big film-themed art show based on that fact. Quentin vs. Coens will be open from April 7-April 9 at the Bold Hype Gallery in Manhattan and includes work from over 100 artists who have interpreted their favorite films and characters from the films of Quentin Tarantino or Joel and Ethan Coen.
Keep an eye on the site as we'll soon have more exclusive images from show but, for now, check out the first set of images – including art from Tim Doyle (exclusive to /Film), Brandon Schaefer, Joshua Budich, Dave Perillo, Lloyd Stas and many others – plus all the pertinent info after the jump.
Here are the first images from the show. Mouse over each to get the artists name and click on them for bigger versions.
Quentin vs. Coens will be open from April 7-9 at the Bold Hype Gallery, 547 W 27th St, 5th floor, NY, NY. The show opens at 6 p.m. for an opening reception on April 7. The gallery is usually open from noon-5 Tuesday-Saturday, but those hours might be extended for this show. Visit boldhype.net or call 212-868-2322 for more info.
For more information on the show, visit Spoke Art's homepage, their Facebook page or the show's event page. And don't forget to check back soon for more /Film exclusive images