Casting Bits: Miles Fisher In 'J. Edgar'; Wes Bentley, Jennifer Carpenter And Emily Wickersham In 'Gone'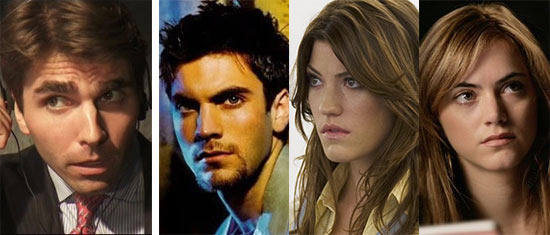 The J. Edgar casting train keeps on chugging. Clint Eastwood is in the midst of shooting his J. Edgar Hoover biopic, with Leonardo DiCaprio in the title role and Armie Hammer as Hoover's colleague and reported lover Clyde Tolson, but more and more actors continue to fill out the cast. First Stephen Root was added, then Jeffrey Donovan (of Burn Notice fame) joined, and now Miles Fisher has made the list as well. Fisher probably won't be familiar to many of you, but he was recently cast as one of the leads in Final Destination 5, and has also appeared in shows such as Mad Men and Gossip Girl. (Amusing side notes: He also played Tom Cruise in Superhero Movie, and starred in that Pinkberry: The Movie video that made rounds last summer.)
More on Fisher's role after the break, along with a casting update for the Amanda Seyfried thriller Gone.
Fisher will play Agent Garrison, "an FBI man who interviews his boss, J. Edgar Hoover, at different stages in the movie". He joins a cast that also includes Judi Dench, Naomi Watts, Josh Lucas, Ed Westwick (TV's Gossip Girl), Ken Howard (Michael Clayton, 1776) and Damon Herriman (TV's Justified and Love My Way). [Deadline]
Amanda Seyfried is heading the thriller Gone, which is set to shoot this April. The film follows a young woman who is convinced the serial killer who kidnapped her two years before has come back to finish the job, abducting her sister in the process. But the police don't buy her story, so with no one to turn to, she sets off to find her sister and face her abductor once and for all.
Seyfried won't be completely alone though. She'll have company in the form of Wes Bentley (American Beauty, Ghost Rider, Jonah Hex), Jennifer Carpenter (TV's Dexter) and Emily Wickersham (I Am Number Four, TV's The Sopranos).
Brazilian filmmaker Heitor Dhalia is directing, from a script by Allison Burnett (Fame, Untraceable). Summit will distribute. [Variety]