Illusionist Lance Burton Making Indie Film About Magic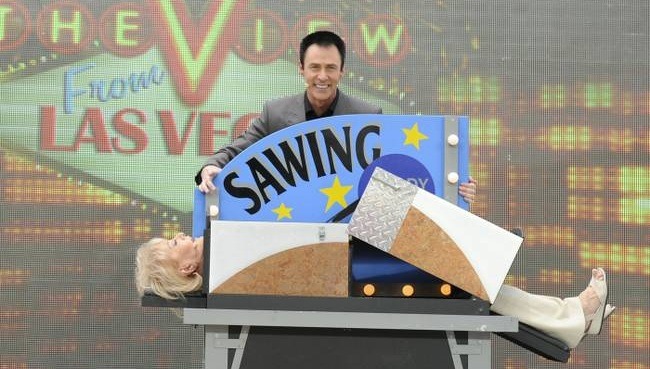 Are magicians going to become the next big Hollywood obsession? Yesterday we reported that writer Michael Chabon would be developing an HBO show about magicians, and now we have news that famous illusionist Lance Burton is in the middle of shooting an indie film about magic. Read more after the jump.
Vegas Deluxe's Robin Leach (via Bleeding Cool) writes:
Lance told me that his entertainment partner, juggler Michael Goudeau, and he are now one-third of the way through shooting their indie magic film. "We have a 100-page script, and we've completed about 30 pages so far," Lance said. "We're really pleased with the way it's coming along, and I'm having great fun taking on an acting role.
"Yes, it has lots of magic, but filmmaking has become a very interesting part of my life, having retired from the live magic performances. I still have the Gone Fishing sign up in a sense because the indie movie is the only thing so far I've wanted to do."
Few details are known about the film at this point — there's no word on when we can expect to see the film, nor on whether any distributors have shown interest in releasing it.
Burton and Goudeau don't seem to have much filmmaking experience, although Goudeau's worked in television before — he's been nominated for Emmy and WGA awards for his writing and producing work on Penn & Teller: Bullshit! Burton's background, on the other hand, seems mostly limited to appearances as himself on documentaries and reality shows, including the 2010 LAFF favorite Make Believe.
That said, as performers, Burton and Goudeau probably have a well-honed sense of showmanship, including timing and visual flair. Whether those stage skills will translate to cinematic storytelling remains to be seen. At the very least, no one could ever accuse them of not knowing their subject matter.
Embedded below is a video of one of Burton's acts. He may be unproven as a filmmaker and actor, but there's no denying he's a seasoned and talented magician.
Discuss: Insert your own Gob Bluth reference here, because I'm bummed that I wrote a whole post about magic and couldn't find a good way to work one in.