This Week In DVD & Blu-Ray: Jackass 3, The Walking Dead (Season 1), The Next Three Days, Morning Glory, Four Lions, And More
We may receive a commission on purchases made from links.
This Week in DVD & Blu-ray is a column that compiles all the latest info regarding new DVD and Blu-ray releases, sales, and exclusive deals from stores including Target, Best Buy and Fry's.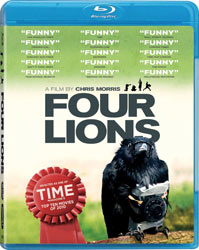 FOUR LIONS
For at least half of its runtime, Four Lions is a relatively good-natured comedy, foremost because its characters seem like relatively good-natured people. This is obviously in spite of the film's subject matter, which focuses on a group of young Muslim men aspiring to become Jihadi Islamist terrorists. Like 2009's In the Loop, the film aims to highlight the absurdity of contentious political issues, making light of a dark topic with some smartly observed satire. But there are two major differences between In the Loop and Four Lions. The first is that Four Lions is a sillier film. Its committed to the realism of its semi-documentary style, but only as much as, say, This Is Spinal Tap. The second is that, with In the Loop, you never see the consequences of the character's actions. That second difference is what vindicates the decision for the first. It marks the key turning point in the film, taking the happy-go-lucky movie world in which we've been resting comfortably and viciously thrusting against it the tragic horrors of the real world. Some may fail to see the humor in that. I found it bitterly hilarious.
Available on Blu-ray? Yes.
Notable Extras: DVD & Blu-ray – Deleted scenes, and a "Lost Boys" featurette.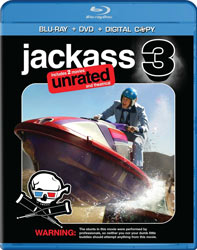 JACKASS 3
(DVD available as single-disc and 2-disc DVD)
Jackass 3 is a fittingly depressing end to the series. With Jackass: The Movie, the gang brought to the table a wide-eyed exuberance and an unquestionable commitment to their depraved craft, making good on the evolution in format. With Jackass Number Two, the gang made a conscious effort to one-up themselves, fervently challenging good sense by taking every sketch as far as they could possibly go. With Jackass 3, the gang has grown up — which is a nicer way of saying they're old and tired and clearly don't want to do this shit anymore. Knoxville is as spirited as ever, and Wee Man and Preston Lacy seem happy to be back, but everyone else has a beaten down look in their eyes, frequently giving up on stunts the moment the desired shot has been attained. They seem to be participating more out of some sort of resentful obligation than genuine enjoyment. Their genial camaraderie shines through all of this, which is why it's still fun to watch, but for the first time ever, I walked away from a Jackass film reflecting more on the inevitable deterioration of the human condition than how much my jaw was aching from laughter.
Available on Blu-ray? Yes.
Notable Extras: DVD – A MTV Making Of Special, deleted scenes, outtakes, a Time Magazine Trailer, and unrated and theatrical editions of the film. 2-disc DVD – Includes everything on the DVD, as well as a 3D edition of the movie. Blu-ray – Includes everything on the 2-disc DVD, as well as a digital copy of the film.
*Does not include 2-disc DVD, which costs $19.99 at Best Buy, and $19.99 at Amazon.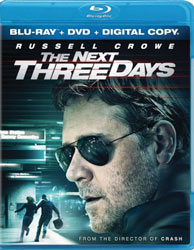 THE NEXT THREE DAYS
The Next Three Days is heartfelt but wrongheaded. It's too implausible to be a high-brow character drama, and too brooding to be a goofily enjoyable popcorn thriller. It wavers somewhere uncomfortably in the middle, resulting in a drama thriller that's, well, kind of dumb and kind of fun. The action means more because it comes from a place of earnest realism within the characters, but it's also susceptible to laughter because of how ludicrous it can be in spite of that realism. As intriguing as the concept of an average suburban dad using YouTube to learn how to make skeleton keys, break into cars and stage an elaborate prison break is, in execution, it plays like a laughably false instructional video — albeit an entertaining one. Less entertaining, however, is the apparently psychic cop who's only one step behind Russell Crowe at all times, which is convenient for tension but not for logic. When all is said and done, The Next Three Days evens out to a serviceable rental; but it had the potential to be so much more.
Available on Blu-ray? Yes.
Notable Extras: DVD – A "making of" featurette, a featurette that looks at the "men" of the film as well as a look at true prison break stories in the name of "love," plus funny cast moments and deleted and extended scenes. Blu-ray – Includes everything on the DVD, as well as a digital copy of the film.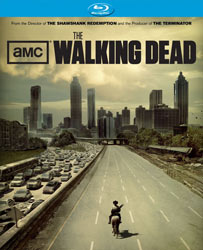 THE WALKING DEAD (SEASON 1)
When Season 1 of The Walking Dead premiered, I expressed elation at Frank Darabont's measured attempt to introduce the zombie genre to a longform televised narrative structure. While his pilot episode was nothing zombie fans hadn't seen before, it was a masterful introduction to a series imbued with humanity and startling ambition, as well as promise of greatness yet to come — greatness that, sadly, was not to be found. Within the show's next five episodes, a significant dip in quality of acting, direction and writing quickly exhausted the story of all its sincerity and momentum, deflating my enthusiasm for the series almost entirely. I can only hope Season 2 is able to change things around, and fast.
Available on Blu-ray? Yes.
Notable Extras: DVD & Blu-ray – Audio commentaries, making of webisodes, and behind the scenes footage.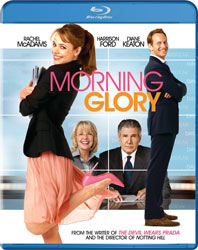 MORNING GLORY
Rachel McAdams is a lovely, talented actress, and she does great work in Morning Glory. I hated her in it. The role is boringly stock, and not deserving of her grace, charm or beauty. See if this sounds familiar: A gorgeous yet romantically challenged workaholic producer needs to boost the ratings of her show to stop it from getting canceled. Half of that sentence is descriptive of at least a third of all rom-com heroines. The other half is more specific, but not so much so that there isn't a year-old rom-com with a protagonist matching that exact description. See: The Ugly Truth. Morning Glory isn't as grotesquely awful as that film. I'll be fair; it's not even bad. It has some strong performances (including Harrison Ford in amusingly cantankerous form), and hits its beats earnestly. The film has, by design, an effortless, easy-going glamour to it, making for easily digestible entertainment. For me, this made it all the more depressing, since the actions which it seeks to playfully exalt are so intensely demonstrative of what's wrong with society. What starts off as light satire weirdly winds up celebrating the collective dumbing down of media. The moral of the story is this: Fuck integrity, because it's so much easier to succeed when you pander to the lowest common denominator.
Available on Blu-ray? Yes.
Notable Extras: DVD & Blu-ray – Commentary by director Roger Michell and writer Aline Brosh McKenna, and a deleted scene.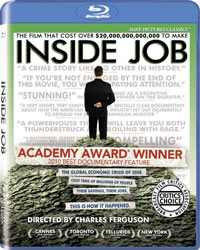 INSIDE JOB
Inside Job winning the Oscar for Best Documentary over Exit Through the Gift Shop was hardly a surprise, what with the political leanings of the Academy. But that should in no way diminish the significance of the film itself, or the work of the director, who provided one of the ceremonies best moments when he took the stage and immediately took a much-deserved shot at Wall Street: "Forgive me, I must start by pointing out that three years after our horrific financial crisis caused by financial fraud, not a single financial executive has gone to jail, and that's wrong." The film currently holds a 98% on Rotten Tomatoes. Here's the trailer.
Available on Blu-ray? Yes.
Notable Extras: DVD – Director Charles Ferguson & Producer Audrey Marrs, and a Making of Inside Job featurette. Blu-ray – Includes everything on the DVD, as well as deleted scenes.
Other noteworthy DVD (and Blu-ray) releases this week...
The Man From Nowhere [DVD / Blu-ray] – Every Day [DVD / Blu-ray] – Tales From Earthsea
Noteworthy Blu-ray-specific releases this week...
Nausicaa of the Valley of the Wind – Excalibur – Exit Through the Gift Shop

NOTES: Some deals may vary by store. Some deals may be in-store only. All deals are for DVDs unless otherwise noted.

$14.99 – It's Always Sunny in Philadelphia (Season 5)
$16.99 – Community (Season 1)

$8.99 – Blu-ray sale: 2012, Cloudy with a Chance of Meatballs, The DaVinci Code, Dear John, Men in Black, Open Season, Open Season 2, Spider-Man 2
$9.99 DVD or $14.99 Blu-ray – Breaking Bad (Season 1)
$8.99 – The Social Network, The Karate Kid (2010), The Other Guys, Resident Evil: Afterlife, Salt, Takers, The Back-up Plan, Eat Pray Love