First Trailer For J.J. Abrams 'Super 8' To Show Before 'Red Riding Hood' And 'Battle: LA' This Weekend?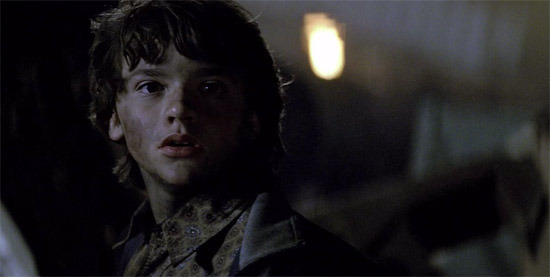 Last month, fans noticed an interesting detail in the Super Bowl TV spot for J.J. Abrams' Super 8: a film frame showing the date 03/11/11. We speculated at the time that March 11 would be the release date for the first Super 8 trailer, especially as Abrams had previously announced that we could expect to see the trailer around March.
Though we still don't have official confirmation, new information indicates that our theory was probably correct — and that we can therefore expect to see the Super 8 trailer before Battle: Los Angeles and Red Riding Hood when they open this weekend. Read more after the jump.
Ain't It Cool News also found that the list of recently classified trailers on the Government of Alberta website includes an entry for Super 8, with a listed running time of two minutes and eleven seconds. Combine those two tidbits of information, and all signs seem to point to our getting the first real trailer for Super 8 before Battle: Los Angeles and Red Riding Hood this weekend. Previously, our only glimpse at the film was the thirty-two second spot that aired during the Super Bowl.
All this, of course, can only mean that we'll all be spending the next several weeks picking apart every frame for hints and clues and Easter eggs pertaining to the film. Oh, J.J. Don't ever change.
Super 8 will be released June 4, 2011. The film was written and directed by Abrams, with Steven Spielberg executive producing and Michael Giacchino (who also scored Abrams' Lost) scoring. The cast features Kyle Chandler (TV's Friday Night Lights — R.I.P.) and Elle Fanning, along with Ron Eldard, Noah Emmerich, Gabriel Basso, Joel Courtney, Riley Griffiths, Ryan Lee and Zach Mills.
Here's the plot summary for Super 8, as we quoted earlier from the LA Times:
The Paramount Pictures release is set in Ohio in 1979 and introduces a troupe of six youngsters who are using a Super 8 camera to make their own zombie movie. One fateful night, their project takes them to a lonely stretch of rural railroad tracks and, as the camera rolls, calamity strikes — a truck collides with an oncoming locomotive and a hellacious derailment fills the night with screaming metal and raining fire. Then something emerges from the wreckage, something decidedly inhuman.
And here's the TV spot in case you want to comb through it again and pick up any final clues: