First Look: 'The Last Airbender: The Legend Of Korra;' Cast Announced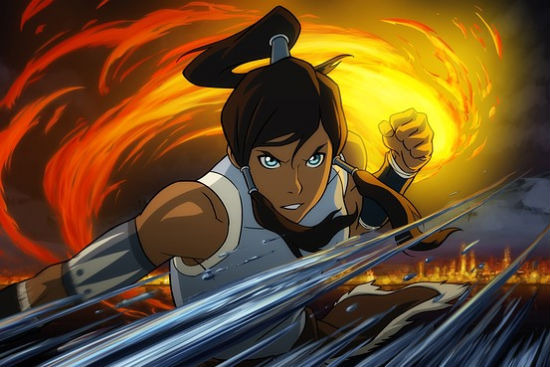 Before you get all nervous, The Last Airbender: The Legend of Korra is a not a sequel to M. Night Shyamalan's multiple Razzie award winning (or is it losing) film The Last Airbender. It is, however, a sequel to the wildly popular and critically acclaimed animated television show Avatar: The Last Airbender on which that crappy film was based. Set 70 years in the future, The Legend of Korra follows a new Avatar named Korra whose attempts to master the final element, air, leads her to a brand new, steampunk influenced city. After the jump, check out two images from the show, a detailed description as well as the full cast list that includes Lost's Daniel Dae Kim, Aliens' Lance Henriksen and Spider-Man's J.K. Simmons.
Paramount, which owns Nickelodeon, first announced the series last summer hot on the heels of the film and at the time, they revealed the first image you see below. The image you see above, however, is brand new courtesy of the Wall Street Journal's Speakeasy blog. Here's both of them.
The initial press release described the show as follows:
The Legend of Korra takes place 70 years after the events of Avatar: The Last Airbender and follows the adventures of the Avatar after Aang – a passionate, rebellious, and fearless teenaged girl from the Southern Water Tribe named Korra. With three of the four elements under her belt (Earth, Water, and Fire), Korra seeks to master the final element, Air. Her quest leads her to the epicenter of the modern "Avatar" world, Republic City – a metropolis that is fueled by steampunk technology. It is a virtual melting pot where benders and non-benders from all nations live and thrive. However, Korra discovers that Republic City is plagued by crime as well as a growing anti-bending revolution that threatens to rip it apart. Under the tutelage of Aang's son, Tenzin, Korra begins her airbending training while dealing with the dangers at large.
And here's the official cast list, also courtesy of the Wall Street Journal:
Janet Varney as KORRA
Kiernan Shipka as JINORA
Daniel Dae Kim as HIROSHI SATO
David Faustino as MAKO
Seychelle Gabriel as ASAMI
Lance Henriksen as LIEUTENANT
P.J. Byrne as BOLIN
JK Simmons as TENZIN
The show is set to premiere on Nickelodon sometime in 2012. Are we excited?