'Prometheus' Updates: Rafe Spall Cast, Noomi Rapace Talks About Her Character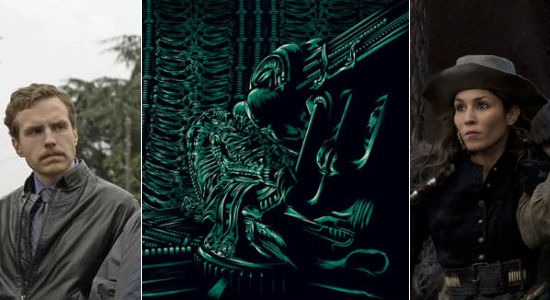 Prometheus, Ridley Scott's pseduo-return to the Alien universe is one of those movies that everyone will be dissecting and discussing right up until release. It's got that perfect combination of a well-known universe, great filmmaker, top notch screenwriter and stellar cast that's bound to excite even the most fair-weather film fan.
Today brings a few updates on the film, which is scheduled for release June 8, 2012. First up, another major role has been filled by Rafe Spall, best known for his roles in Shaun of the Dead and Hot Fuzz. Also, MTV spoke to the film's star, Noomi Rapace, about her role and she revealed how she's been approaching the character and how the character compares to Ellen Ripley. Check out the video and more after the jump.
The news of Spall's casting came from The Daily Mail (with a heads up from Bloody Disgusting) and not much is known about it, except that it's described as a "big role." That probably means he's one of the crew members on the ship.
As for Rapace, MTV spoke to her on the set of Sherlock Holmes: A Game of Shadows. Here's the video:
In case you can't watch the video, here are some of Rapace's key quotes. She had this to say about her preparations:
It's a great honor and I'm really excited. I've met [Scott] maybe seven or eight times and he's so passionate. He really loves movies. He watches movies every night. He's seen everything. We had a long chat on the phone — he's in LA now — about my character. I have many ideas and he has many ideas, and now we're starting to search and try to find her.
She be doing that very soon:
My character's name is Elizabeth Shaw, and I'll step into her shoes in March and be her for six months or something. It's quite a long shoot. It's unbelievable.
And here's how she described the character and discussed the inevitable comparison to Sigourney Weaver's Ripley:
She's definitely her own [character]. She's a scientist and is very bright. She's a believer. I think there are some similarities, but she's very much her own. I don't think people will compare her so much to Ripley once they see the movie.
Are you a fan of Spall and his dead-pan humor? And do you feel Rapace will be able to break out of Weaver's impressive shadow?