Simon Pegg Calls 'Mission: Impossible Ghost Protocol' A Rebirth; Praises Brad Bird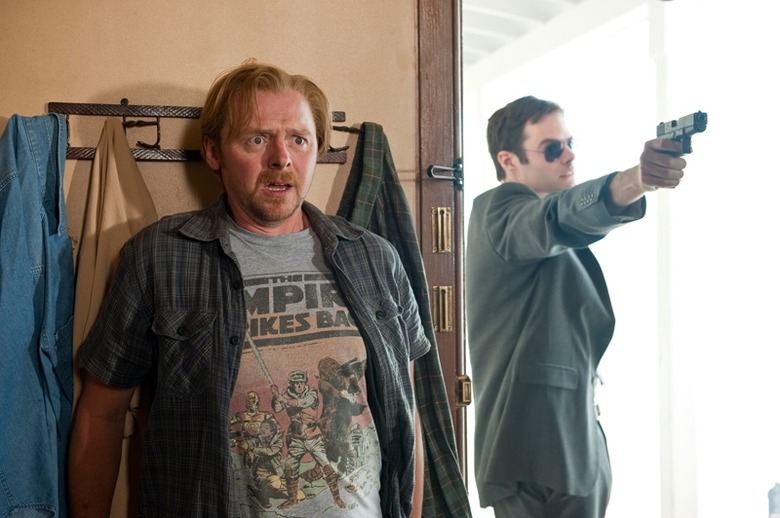 Simon Pegg is about to hit the publicity tour full force in support of the hilarious comedy Paul, which he stars in and co-wrote. That means that every single person will probably ask him about two of his biggest upcoming projects: Star Trek 2 and Mission: Impossible Ghost Protocol. Pegg has publicly stated he doesn't know much about Trek 2 yet but since he's currently shooting Mission: Impossible, with director Brad Bird and stars Tom Cruise, Jeremy Renner, Paula Patton and Josh Holloway, he has plenty to say about that. Screen Crave got to Pegg first and the actor had some great things to say about the December 16 release. Check them out after the break.Thanks to Screen Crave for these quotes.
First up, they asked Pegg about the inevitable disappointment that fourth films (Star Wars, Die Hard, Alien, Indiana Jones, etc.) in a series bring but Pegg doesn't think Mission: Impossible Ghost Protocol will fall into that pitfall:
I think you're right, when a film goes into number four you're like, 'Isn't this just like flogging a dead horse now?' But what they've done is they've brought in a director who's never done live action before but who's had a 100 percent hit rate for his previous movies: Ratatouille, The Incredibles, and The Iron Giant are all just five star films. Brad has just brought that sensibility to this film. And the fact that's it's Mission Impossible Ghost Protocol, it's not Mission Impossible 4.
He continues:
It's a rebirth for the series. In the same way with what they've done with Spider-Man. I feel like it's a reinvigoration of this particular story. It was a series when it was on TV, so it's a story that can have so many iterations. There are so many adventures to get into with this team of impossible mission fighters.
And while Pegg has nothing but praise for the cast, he says it's all about working with director Brad Bird:
I wanted to read the script and I read it and just thought, 'This is going to be awesome!' On top of that, you have a guy who is such a clever director. Who'd have thought that the guy who was the showrunner on The Simpsons would be the guy directing a Mission Impossible movie? It sounds crazy but believe me it's really gonna work. I'm so stoked for this film.
There's more over at Screen Crave, so head over there to check out more from Pegg. But do you trust his statements on this? Do you think Bird can keep the Mission: Impossible series on the same level as Brian De Palma, John Woo and J.J. Abrams?