Arnold Schwarzenegger Considering 15 Films Including Comic Book Character, 'Predator' And 'Running Man' Remakes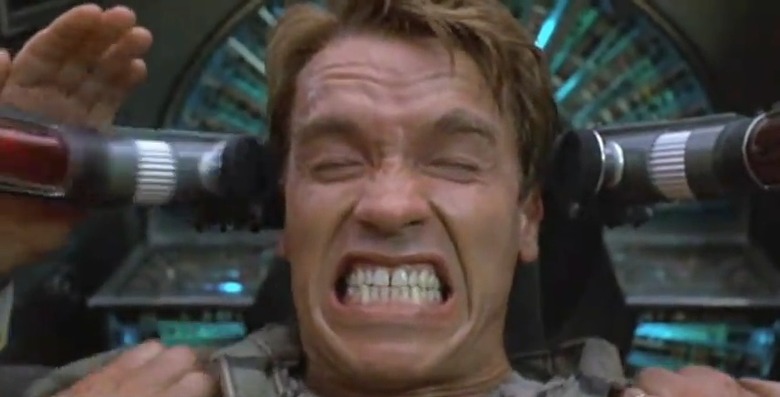 After spending some time running California, Arnold Schwarzenegger recently made a proclamation that he's ready to get back into acting. That was about a month ago. Since then, it's been all quiet on the Arnold front until this weekend. At the Arnold Classic, a bodybuilding competition that takes places at the Arnold Sports Festival in Ohio, the website TheArnoldFans got a chance to ask the man who starred in The Terminator, Total Recall, Predator, Commando and The Running Man to elaborate on recent rumors of movies he's considering. Schwarzenegger obviously wasn't specific, but did give a very interesting answer that included proposed remakes of Predator and The Running Man and much more. A comic book character? Read Schwarzenegger's quote and some thoughts after the jump.
The Arnold Fans get the credit for going to a bodybuilding competition in order to talk to Schwarzenegger so head over there to read more (and thanks to Ain't It Cool News for the heads up.) They asked if he could elaborate on the supposed three films that he's considering. Here's Arnold:
Well, first of all it's more 15 films, obvious ones from The Terminator to remakes of Predator and The Running Man and all of those things.  Then also a lot of original stuff too.  But I am also packaging a comic book character right now. I'm going to announce that sometime by the end of March or the beginning of April.
Wow. Talk about a dense couple of sentences. Let's break them down.
1. The surprise isn't that Schwarzenegger is considering about 15 things right now, it's that he isn't considering more. Schwarzenegger's comeback movie has the potential to be very big and I'm sure everyone is clamoring to grab him. The last film he was in, The Expendables, was a huge hit. Not explicitly because of he was in it, of course, but his presence didn't hurt and the film certainly hinged on that Schwarzenegger vibe. His next starring role has that kind of potential.
2. We've heard a lot about new versions of The Terminator that are floating around Hollywood so it's a no-brainer that a script would cross Schwarzenegger's desk. But remakes of Predator and The Running Man? That's unexpected. Didn't we just see a new Predator movie? And isn't The Hunger Games, more or less, an updated version of The Running Man? Still, while we haven't heard much about those films, Hollywood going back to the well does make sense. They are remaking Total Recall after all.
3. "A lot of original stuff too." This is where Schwarzenegger will probably end up falling. We've heard about this supposed World War II film and, since he's a man who has made, or at least started, so many franchises, I bet he tries to avoid that now.
4. He's packaging a comic book character. This is quite intriguing. Is he going to star? Produce? Is it something we've heard of or a whole new character all together? According to Schwarzenegger, we'll find out sooner rather than later. Sounds good to us.
What are your thoughts on Schwarzenegger's statement? What would you want to see him do when it comes back?