'Super' Trailer: "That's Inappropriate."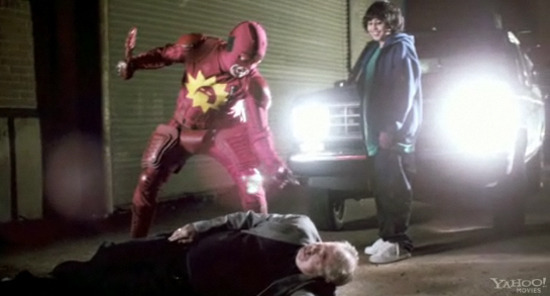 Here is the trailer for James Gunn's weird and probably, as the quote suggests, very inappropriate super hero movie Super. Rainn Wilson looks like he is perfectly cast as a guy who creates a costumed alter-ego after his hot wife (Liv Tyler) dumps him for a drug dealer (Kevin Bacon). Ellen Page is the young girl who becomes his too-eager sidekick after helping instruct him on the basics of superheroes and we even get a peek at Nathan Fillion as The Holy Avenger. Check out the almost-uncomfortable trailer after the break.
I love the low-budget look and the homemade costumes. Not so taken by the little animated additions, but the world that James Gunn has created here continues to remind me of some of the stranger indie comics of the early '90s, like stuff by Rick Veitch and Bernie Mierault. That's something I've wanted to see on film for a while (Defendor also got some of that vibe.)
NYC and LA get Super on April 1, and it will expand outward from there during April.
When sad sack Frank D'Arbo (Rainn Wilson) sees his ex-addict wife (Liv Tyler) willingly snatched by a seductive drug dealer (Kevin Bacon), he finds himself unable to cope. But when the finger of God blesses his brain (don't ask), D'Arbo decides to fight back under the guise of a DIY superhero called Crimson Bolt. In order to get his wife back, he must first fight his way up the criminal ranks, and he begins by taking a monkey wrench to the foreheads of a couple who cut in line at the movies. As Crimson Bolt begins to make the headlines, a young woman from the local comic book store (Ellen Page) joins in on the fun as his sexually charged sidekick, Boltie.