Only A Few G.I. Joe Team Members Will Return For The Sequel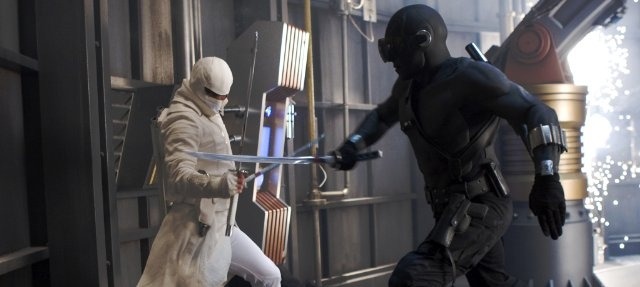 With Jon Chu on board to direct a sequel to GI Joe: The Rise of Cobra, we're beginning to learn more information about the movie. It had been previously reported that the main cast from the first film were contractually obligated to do the sequel, but that might not be the case after all. Rachel Nichols, who played Shana Scarlett' O'Hara in the 2009 toy-to-film adaptation dropped some interesting news regarding the returning cast of the new movie. Hit the jump to find out which of the characters will return for the sequel!
Here is the Tweet from Nichols' Twitter verified account: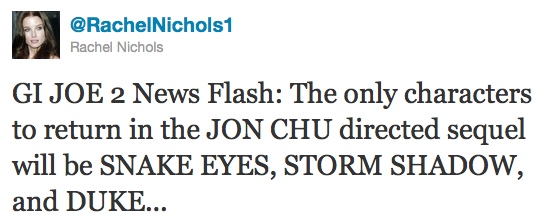 Thats's right, so the only main cast to return are:
Lee Byung-hun (The Good, the Bad, the Weird, I Saw the Devil) who we previously reported had inked his deal to return as Storm Shadow.
Ray Park (Star Wars: The Phantom Menace) who played Snake Eyes
Channing Tatum who played Captain Duke Hauser
You would also assume that Nichols would return as Scarlett, as she made comments only a couple days ago to press insinuating that she was on board for the sequel, although she had admitted that she had not yet been sent a script. She even did an interview with the NY Post stating she would really like to reprise her role. Looks like she won't get that chance. Earlier today she also shot out the following twitter update:
"... Thank you. After the GI JOE news I had Heavy Boots, but I'm smiling now!"
Yup, it looks like she was given a call by Paramount and told that her character would not be in the sequel story.
I'm also guessing that her comments are only speaking about the GI Team members, as the first film clearly set-up a possible sequel which would involve some returning bad guys. Although, Sienna Miller had already confirmed she would not be returning for the sequel. I was personally hoping that Joseph Gordon-Levitt would be back since a big focus of the first film was on his character's origin story. But that seems unlikely.
The massive cuts in the main cast could also be attributed to a more than likely drop in budget. It is no secret that the first GI Joe film did not make mega money — the first film was made for an estimated $175 million, and grossed $300 million at the box office (a large percentage of which went to exhibitors). Hiring Jon Chu over Stephen Sommers also seems like a smart money-motivated move. Sommers is a tentpole movie vetren who probably has a rather large pay rate. Chu is a hungry and talented up and comer who is probably working for a fraction of that quote. Again, this is all just speculation on my part.
But honestly, it isn't a bad thing. It seems like most moviegoers were only interested in a handfull of the characters from the first film, which included the rivialry between Snake Eyes and Storm Shadow, so it makes sense that they would be the focal point of the next adventure.
Thanks to /Film reader AUSTINCFLMS for the tip.
Previously:
The original movie earned over $302 million worldwide despite mostly negative buzz and reviews (34% on Rotten Tomatoes). The film surpassed studio expectations domestically, which was enough to greenlight a sequel. Zombieland writers Rhett Reese and Paul Wernick were hired to pen the screenplay. Director Stephen Sommers did not have that clause in his contact and reportedly will not be returning for the sequel.
Rise of Cobra was more fun than I was expecting. The film was the best case scenario of a bad situation – a horrible script, badly written characters, horrible production and costume design, sometimes questionable CG, but somehow the action sequences (which employed crazy high tech impossible weaponry) were fun enough to make it worth my $8. But it wasn't a good movie by any stretch of the imagination.