'Dancing With The Stars' Winner Julianne Hough Lands Lead In 'Rock Of Ages'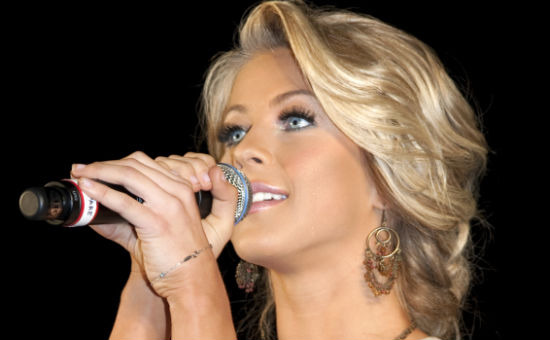 Country singer and two-time Dancing With The Stars winner Julianne Hough has just landed the lead role of Sherrie in Adam Shankman's adaptation of the Broadway musical Rock of Ages. She'll star alongside Tom Cruise and Mary J. Blige (as well as possibly Russell Brand and Alec Baldwin, though those deals haven't been locked yet) as a country girl who comes to Los Angeles and gets eaten up and spit out by the '80s hair metal scene. The show features music by Bon Jovi, Styx, Twisted Sister and Poison and more. Hough recently appeared in Burlesque and also stars in the upcoming remake of Footloose. Read more after the break.
In a story broken by The Wrap, Shankman (who directed Hairspray, another movie version of a Broadway musical) called Hough's audition "jaw-droppingly good" and said casting Hough was a "no-brainer."
In the film, Hough's character moves to Hollywood and becomes involved with Stacee Jaxx (Cruise), the world's biggest rock star, before losing everything and being forced to work her way back up. The screenplay was written by Chris D'Arienzo, who also wrote the Broadway show.
If the movie holds true to that show, which can still be seen touring across the world, some of the songs that might be included are as follows: Sister Christian, We Built This CIty, We're Not Gonna Take it, Wanted Dead or Alive, I Want To Know What Love Is, Here I Go Again, The Final Countdown, Hit Me With Your Best Shot, Every Rose Has Its Thorn and Don't Stop Believin' just to name a few.
Finally, just to keep things in the cheesy music/dance vibe, Hough won Dancing With The Stars as the professional dancer in seasons four and five with speed skater Apolo Ohno and Formula One Drive Hélio Castroneves. She's also had a #1 album on the Billboard country charts. So, she's a pretty legit choice to star in a big budget musical.
Are you fans of Hough and do you think she'll hold her own against Cruise, Blige, Brand and Baldwin?