Kevin Spacey Reunites With David Fincher In TV Show 'House Of Cards'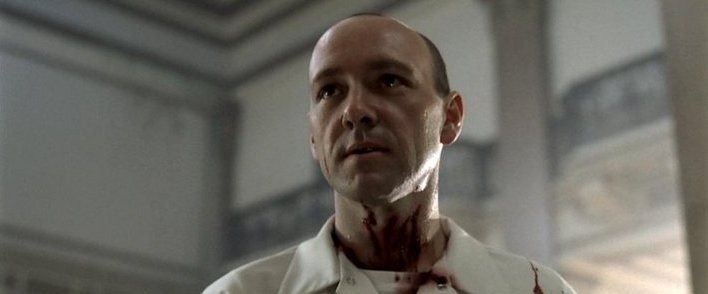 Briefly: Last year we heard that David Fincher is planning to do House of Cards, a new TV series written by Eric Roth based on the book of the same name and the British miniseries that spawned from it. He'll exec produce and direct the pilot episode which automatically makes the show of particularly high interest, even if it is a remake of a very well-regarded UK show.
Now his Seven secret weapon, Kevin Spacey, has signed on to co-exec produce and star.
There is still no network set to broadcast the show.
Previously:
The original series starring Ian Richardson and written by Andrew Davies based on Michael Dobbs' book was set at the end of Margaret Thatcher's tenure and saw a devious Member of Parliament, Francis Urquhart, scheming to become Prime Minister. Fincher and Roth's version will change the time and place to current America, but retain the focus on political blackmail and machinations.
If this works well, essentially what we'll get is an opposite number to The West Wing. While Aaron Sorkin's show gave us a sort of fantasy political America, House of Cards should really be a look into the underside of politics.
The original series was significantly inspired by Shakespeare's Richard III, with Urquhart frequently breaking the fourth wall. Several of Urquhart's notable actions were based on those of Richard III; Richardson has said that he based his award-winning performance on the monarch as written in Shakespeare's play. Hopefully Fincher and Roth will retain at least the fourth wall breaks, as they're part and parcel of what makes House of Cards unique. And since so many other aspects will have to be altered to accommodate the change from UK to US, they need to keep something intact.
[Deadline]