Oscar-Winning Composer Trent Reznor To Score And Act In 'Abraham Lincoln: Vampire Hunter'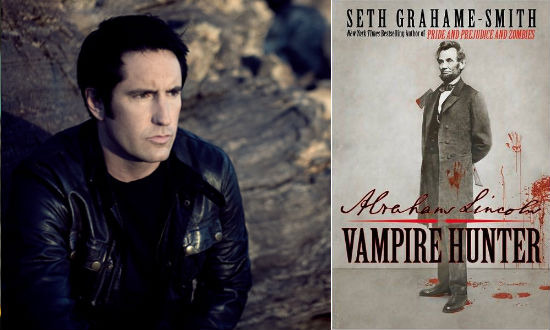 When it was announced that Nine Inch Nails front man Trent Reznor would be scoring David Fincher's The Social Network, it was considered a highly unlikely choice. Over a year later, Oscar in hand, Reznor's next film seems like a much more logical fit. While he and partner Atticus Ross are currently scoring Fincher's follow-up, The Girl With the Dragon Tattoo, Badass Digest reports that Reznor will follow that up by not only scoring, but acting in, Timur Bekmambetov's adaptation of the Seth Grahame-Smith novel Abraham Lincoln: Vampire Hunter. Read who he'll be playing and more after the jump.
Badass Digest broke the news of Reznor's involvement in the film, which will surely benefit from the moody, atmospheric accompaniment that the composer helped to craft for The Social Network, with Oscar-winning results.Abraham Lincoln: Vampire Hunter surmises that Lincoln's mother was killed by vampires and that the eventual 16th President of the United States dedicated his life to destroying blood-suckers with an axe. He continued to do so all the way through his Presidency. Reznor's role will reportedly be a very important cameo – as the vampire that kills Lincoln's mom and sets the whole bloody affair in motion.
We've previous reported a ton of casting on the film, which includes Benjamin Walker as Honest Abe, Mary Elizabeth Winstead as his wife Mary Todd, Anthony Mackie as Secretary of State William Seward, Dominic Cooper as vampire-killing mentor Henry Sturges and Jimmi Simpson as Josh Speed, Lincoln's friend and personal assistant.
Produced by Tim Burton, Abraham Lincoln: Vampire Hunter begins shooting, in 3D, later this month aimed at a prime June 22, 2012 release date, which sandwiches it between Pixar's Brave and Star Trek 2.
Does Reznor's involvement raise your excitement for the film? And isn't it cool to see the phrase "Oscar-winner Trent Reznor?"