Rough Cut Of David O. Russell's Political Satire 'Nailed' Screened In Los Angeles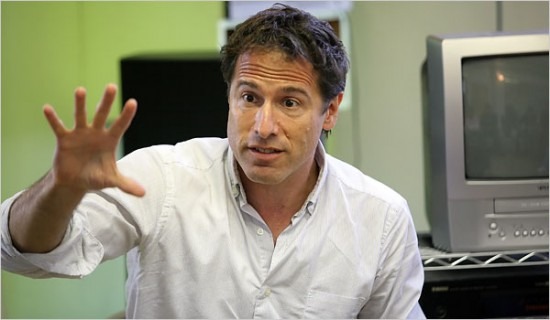 David O. Russell fans the world over mourned last summer when he announced that he'd quit as writer/director of the political satire Nailed. After two years of production delays and shutdowns due to money troubles on the part of financial backer David Bergstein, Russell finally decided he'd had enough and backed out with just "one key scene" left to shoot. Although the film had a new owner by that point, Bergstein's partner Ron Tutor, he and Russell were unable to reach an agreement. Tutor announced at the time that he still planned to complete the film with another director, and Russell gave a very polite statement wishing Tutor the best. And now it seems Tutor's making good on his promise: last night, a select audience in Los Angeles was shown a rough cut of the movie. Read more after the jump.
According to ThePlaylist, last night's attendees were shown a very raw assembly cut of the film. The unfinished "one key scene" was not missing, but incomplete, and had a title reading "to be reshot" across the bottom. The overall film is plagued by jarring tonal shifts and inconsistent camera work, probably due in part to the disruptive stoppages during the production process. And although producer Sam Spiegel announced a while back that he'd be scoring the film, the rough cut was set to "oldies pop." On the positive side, Morgan (unsurprisingly) fares best with the film's wacky feel. Reubens and Marsden were also singled out as bright spots.
Since the cut shown was an extremely rough one — one D.C. montage even had the word "Getty" splashed across some of its photographs — there's still a chance that additional work could go a great way toward improving the film. However, descriptions like "unwatchable," "disastrous" and "godawful" aren't giving me much hope.
It doesn't seem like a stretch to think that the commercial and creative success of The Fighter might have something to do with the timing of the screening. Although Russell's long since washed his hands of the project, the viewing was apparently announced using his name ("a new comedy from David O. Russell, the Oscar-nominated director of The Fighter, Three Kings and Flirting with Disaster") and the post-screening questionnaire asked whether Russell's involvement was one of the draws for those who attended. However, the cut omitted any credits (directorial or otherwise), and it's likely that Russell will fight to have his name disassociated from this film. At the time that he quit, he gave the following statement:
This has been a painful process for me...The multiple production delays and stoppages, which were caused by David Bergstein and preceded Ron Tutor's direct involvement with me, have now spanned two years, and the circumstances under which the film would now be completed are much different on several fundamental levels than when we embarked several years ago. I, unfortunately, am no longer involved in the project and cannot call it 'my' film. I wish Ron Tutor well.
While I certainly can't blame Russell for wanting out of such a notoriously troubled shoot, I regret that we'll never be able to see his vision come to fruition. It's difficult to tell at this point how the film will eventually turn out, but whatever we get, it won't be what Russell intended. I haven't seen the cut myself. Based on what I've heard, though, I think I'm with the audience member who said, "ultimately this project is somewhat heartbreaking because you imagine that it could be so much better."