'Age Of The Dragons' Trailer – It's 'Moby Dick', But With Dragons!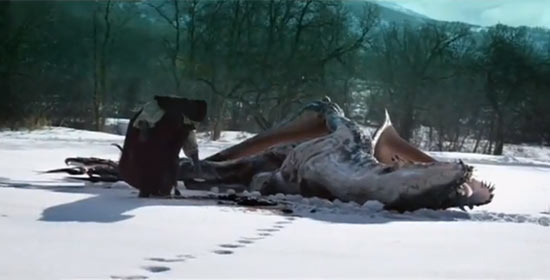 A couple of weeks ago we gave you an early look at Danny Glover as Captain Ahab in Age of the Dragons (previously titled Dragon Fire), the low-budget reimagining of Herman Melville's Moby Dick which sees the titular white whale replaced with a white dragon. Now there's an international trailer for the film, which also stars Vinnie Jones. Watch it after the break.
I'm not gonna lie, the movie looks pretty bad. It may share the same basic narrative with the revered literary classic, but it doesn't carry with it any of the same sophistication, nor does it intend to. To quote the film's own executive producer, "It's Moby Dick with way more excitement, way more action." That quote is probably best read with several exclamation marks tagged on the end of it.
Still, for a budget of $5 million, there are some occasional impressive visual flourishes to be found within this trailer, providing a slight glimmer of hope for at least a fun dragon movie — a rarity, sadly. How to Train Your Dragon was of course amazing, but it didn't need to try very hard to excel its live-action competition: Reign of Fire (decent), Dragonheart (bad), Eragon (really bad), Dungeons & Dragons (atrocious), and Dragon Wars: D-War (lol wut). Where will Age of the Dragons fit into that list? Place your bets now.
Age of the Dragons opens in UK theaters this week, on March 4, but no US release has been set.
Watch the trailer below.
Here's the official synopsis:
Based on Herman Melville's Moby Dick, AGE OF THE DRAGONS starring Danny Glover and Vinnie Jones is an all-action re-telling of the classic story like never before. Captain Ahab (Glover) and his crew hunt the most feared creatures to have ever existed: DRAGONS.
Ishmael, a charismatic harpooner, joins their quest with the promise of riches beyond his wildest fantasies. Whilst Ahab's adopted daughter Rachel, sexy yet tough, runs the hunting vessel. And it's not long before the vessel's fearless and most experienced harpooner, Stubbs (Jones), is leading the crew into combat against the deadly mythical beasts.
But it gradually emerges that this isn't a hunt, it is an obsession. Ahab seeks revenge on a great 'White Dragon' that slaughtered his family when he was young, leaving his body scarred and mauled. With the hunt threatening the certain death of all involved, the crew must decide who is their most dangerous enemy: The White Dragon, or Ahab himself...