'Rubber' Red Band Trailer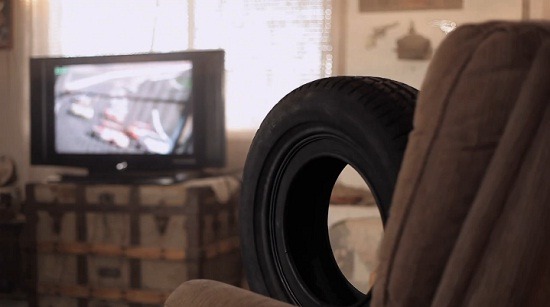 Magnet is going to open the very strange-sounding film Rubber in theaters in April, but the movie is already playing On Demand. All those I know who have been watching the film (and who have seen it at festivals) love the picture, and I can't wait to see it. Now there is a red-band trailer to whet your appetite in case the other trailers and the Olly Moss and Boris Vallejo posters didn't do the trick.
If you've seen the earlier trailers for the film (here and here) a lot of this footage will be familiar, but this edit is pretty good. Rubber isn't a movie with a lot of really beautiful locations, but it is quite well shot. Some of the individual shots in this trailer are just beautiful.
It is a red-band clip due to violence and printed profanity, so use that info at your discretion with respect to watching at work or in public. While it is fairly explosive violence, it also isn't the most unusual or shocking stuff in the world. Which probably says pretty bad things about me, but it's too late to worry about that now.
Unfortunately, this trailer is via Hulu, so you may need to sign in to that site to watch it, and it won't be available to people outside North America. If a more universal embed shows up, we'll drop it in.
Rubber will open in theaters on April 1.
RUBBER is the story of Robert, an inanimate tire that has been abandoned in the desert, and suddenly and inexplicably comes to life. As Robert roams the bleak landscape, he discovers that he possesses terrifying telepathic powers that give him the ability to destroy anything he wishes without having to move. At first content to prey on small desert creatures and various discarded objects, his attention soon turns to humans, especially a beautiful and mysterious woman who crosses his path. Leaving a swath of destruction across the desert landscape, Robert becomes a chaotic force to be reckoned with, and truly a movie villain for the ages. Directed by legendary electro musician Quentin Dupieux (Steak, Nonfilm), aka Mr. Oizo, RUBBER is a smart, funny and wholly original tribute to the cinematic concept of "no reason."