'Tim And Eric's Billion Dollar Movie' Is A Go Featuring Zach Galifianakis, Will Ferrell, John C. Reilly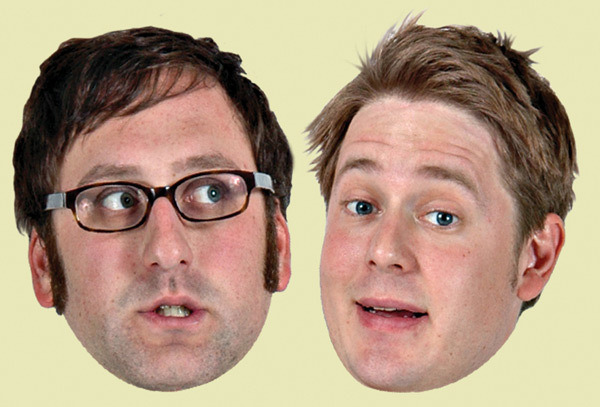 We reported on this rumor a few weeks ago but now it turns out to be true. Tim Heidecker and Eric Wareheim have co-written and will co-direct a film called Tim and Eric's Billion Dollar Movie which stars the two comedians, best known for their recently ended Cartoon Network show Tim and Eric Awesome Show Great Job, in story about them making a movie for $1 billion dollars and the problems that arise from it. In addition to Heidecker and Wareheim, the film will feature Zach Galifianakis, Will Ferrell, John C. Reilly, Robert Loggia, Jeff Goldblum, Will Forte and William Atherton. Read what the comedy team had to say about their first film, which will be distributed by Magnolia Pictures, after the break.
Though we wrote about it two weeks ago, The Wrap got the exclusive confirmation that the film, produced by Funny or Die, Gary Sanchez Productions and Abso Lutely Productions, began shooting on Friday. Here's what Heidecker told The Wrap about the size of this production in relation to all the short form comedy they are used to doing:
It's definitely the biggest thing we've ever done in terms of scope of the size of the production. Relative to other films, it's tiny, but to us, it's the biggest thing we've ever done, the biggest crew we've ever worked with and the most professional thing we've ever done. And the challenge is to fight against the professionalism and keep things loose.
But confidence is high, even comically high. Here's what Wareheim said:
It really is a benchmark in the timeline of American film comedies. The start of this production is going to be looked on as a day to remember. As principal shooting begins on a film that will change American comedy ... I just hope that the Academy is watching and they get on this boat early, because it's been a while since the Academy awarded the best picture Oscar to a comedy. It's long past due, but this film offers the Academy the perfect opportunity to award a best picture film to a comedy and maybe even preemptively. I don't know how that works, but we could be looking at a situation where the Oscar is awarded before the film is released.
There's no word on when the film will be ready for production but, based on the fact that their last film, the short film The Terry's, played at Sundance, maybe Billion Dollar Movie will show up in Park City next year.
You can read more about the film on The Wrap. Are you as excited for this film as I am?