'Detention' Trailer: Prom Night And Time Travel And Aliens Collide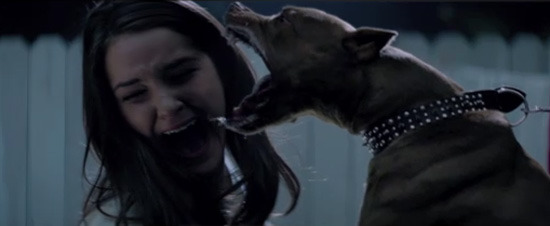 Torque director Joseph Kahn has made a very strange-looking teen slasher movie called Detention. The film will soon premiere at SXSW, and the trailer has arrived today. While the opening of the trailer might make you think this is a routine post-Scream meta-slasher movie, be sure to watch all the way through. Because this one goes to some unexpected places by the end. If nothing else, the trailer sells Detention's very high 'WTF?' factor, and that's pretty great.MTV presents the trailer, and at first I was a little put off. There's an opening gag about Torque, which is fun, and Holy Fuck's song 'Frenchy's' drew me in. But there's a good little bit of high school drama and politics to set up, and that bit of the trailer isn't cut so well.
But then it goes off the rails with shots of murder, aliens, and all sorts of other weirdness. Joseph Kahn has said, "Detention isn't really a horror comedy. It's kind of indescribable genre wise." That actually comes across in the trailer — I just hope the film is a lot more like the second minute than the first. That second minute makes the movie look totally nuts. Between this and Scream 4, I'll definitely take Detention.
Written by Joseph Kahn and Mark Palermo, Detention stars Josh Hutcherson, Dane Cook, Shanley Caswell, Spencer Locke, Aaron David Johnson, Walter Perez, Erica Shaffer, Parker Bagley, and Alison Woods. (And Bryan 'Brain' Mantia, aka drummer for Primus, Tom Waits and more, composed the score. Didn't know that until just now.)
Detention is a teen horror-comedy where the local students of Grizzly Lake must survive their final year of high school. Standing in their way is a slasher movie killer who has seemingly come to life. It becomes a race against time to stop the killer and save the world – if only they can get out of detention. The Detention cuts through prom. Most of them don't have dates anyway.