UPDATED: Four Of The '47 Ronin' Have Been Cast; Actors Include Hiroyuki Sanada And Tadanobu Asano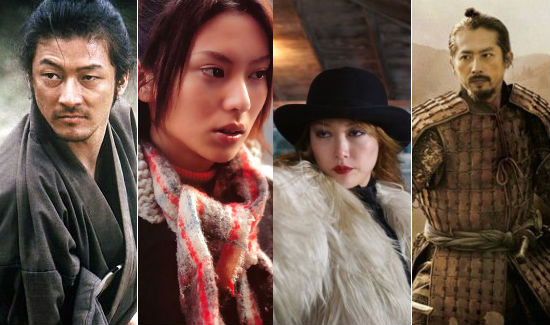 [UPDATE: This original story has been updated with an official press release, plot description, character names and high resolution cast photo. Check it all out after the jump.]
With Keanu Reeves set to star in Carl Erik Rinsch's 47 Ronin, by my math, still leaves about 46 Ronin to be cast. The 3D production is heating up and Variety is reporting that four more roles have been cast. Japanese actors Tadanobu Asano, Kou Shibasaki, Rinko Kikuchi and Hiroyuki Sanada have all joined the film.
Asano is familiar to film geeks for his roles in Ichi the Killer, Mongol and Zatoichi among many others, plus he's got a two big movies coming up, Thor and Battleship. Shibasaki was in Go, Battle Royale and the original One Missed Call. Kikuchi is known to American audiences from her leading roles in Babel and The Brothers Bloom and Sanada is best known for roles in The Last Samuari, Sunshine and as Dogen in the final season of Lost. Ken Watanabe was rumored to be a part of the film, but that is still just a rumor.
Read more about Rinsch's 47 Ronin, scheduled for release Thanksgiving 2012, and this casting after the jump.
Thanks to Variety for providing these casting announcements.47 Ronin is a well-known story. Extremely well-known. According to the IMDB, there are no less than 14 films who have shared this title at some point during their production. Here's how Peter described the film a few months ago:
Based on a true 18th Century Japanese story, the film follows a band of samurai swordsmen who are shamed into becoming the titular ronin — a Japanese word meaning lordless samurai, and must avenge the death of their master. The construct a huge plan and sacrifice everything to see it through.
And screenwriter Chris Morgan, who wrote the last three Fast and Furious films as well as Wanted, described the film as a "great, Gladiator-esque, 300-like big action movie with samurai and ninja."
All that said, casting well-respected and talented Japanese actors such as these would certainly make it seem like this project is headed in the right direction. While some are more recognizable than others, each already had a pretty impressive Hollywood resume that will only be bolstered by this film. I'm suddenly much more excited about 47 Ronin.
UPDATE:
Universal has provided the following press release about the production of 47 Ronin. Here's a cast shot and the full text. Click for the high res version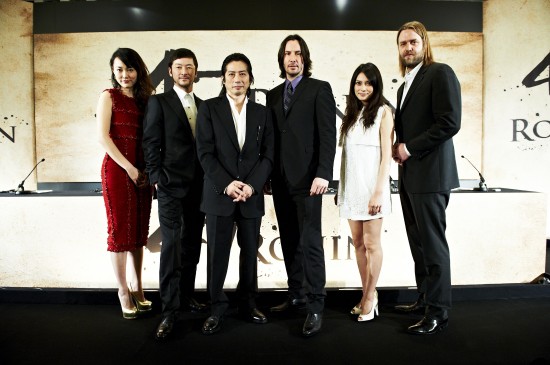 Universal Pictures announced today that principal photography begins March 14 on 47 Ronin, the new epic 3D fantasy-adventure inspired by ancient Japan's most enduring tale. Keanu Reeves leads the cast as Kai, an outcast who joins Oishi (Hiroyuki Sanada), the leader of the 47 Ronin. Together they seek vengeance upon the treacherous overlord who killed their master and banished their kind. To restore honor to their homeland, the warriors embark upon a quest that challenges them with a series of trials that would destroy ordinary warriors.
47 Ronin is helmed by visionary director Carl Erik Rinsch (The Gift). Inspired by styles as diverse as Miyazaki and Hokusai, Rinsch will bring to life the stunning landscapes and enormous battles that will display the timeless Ronin story to global audiences in a way that's never been seen before.
Joining Reeves in the cast are a who's who of Japanese superstars, including Hiroyuki Sanada (The Twilight Samurai, Sunshine, The Last Samurai) as the clan's chief samurai, Oishi; Kou Shibasaki (The Lady Shogun and Her Men, One Missed Call) as their master's daughter and the love of Kai's life, Mika; Tadanobu Asano (Mongol, Ichi the Killer, upcoming Thor) as the treacherous Lord Kira; and Academy Award®-nominated actress Rinko Kikuchi (Babel, Norwegian Wood) as the mysterious lady Mizuki who executes Kira's every request in his search for ultimate power.
The film is from writers Chris Morgan (Wanted, Fast Five) and Hossein Amini (upcoming Drive, The Wings of the Dove). Scott Stuber (The Kingdom, upcoming Battleship), Pamela Abdy (Garden State, Man on the Moon) and Eric McLeod (Pirates of the Caribbean: Dead Man's Chest and At World's End, Tropic Thunder) produce the epic.
Rinsch leads a behind-the-scenes crew comprised of two-time Academy Award®-nominated cinematographer John Mathieson (Gladiator, Robin Hood); two-time Academy Award®-nominated production designer Jan Roelfs (Alexander, Gattaca); editor Craig Wood (Pirates of the Caribbean trilogy, The Ring); costume designer Penny Rose (Pirates of the Caribbean trilogy, Evita); special effects producer Paul Corbould (Mamma Mia!, The Wolfman); and visual effects producer Garv Thorp (The Mummy: Tomb of the Dragon Emperor, Your Highness).
What do you think of these actors being in the film? Is 47 Ronin a film that you're excited about?