'Puss In Boots' Gets Two Week IMAX Release; Hints At 'Breaking Dawn' IMAX Announcement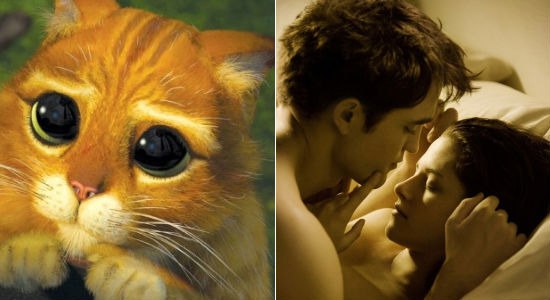 Add yet another film to the already tight 2011 IMAX theater schedule. Or maybe two. DreamWorks just announced that their Shrek spin-off, Puss In Boots, is going to play on domestic IMAX screens for two weeks beginning November 4. Why only two weeks when there's no film scheduled for IMAX release on November 18? Well, that's the day The Twilight Saga: Breaking Dawn Part 1 is coming out and pretty much guarantees Summit is gearing up to release the film in the large screen format. Check out the full upcoming IMAX schedule, and learn more about the films, after the jump.
The Hollywood Reporter reports the new deal, which will also see Kung Fu Panda 2 hit IMAX screens, but not in the US. In the U.S. the IMAX schedule is a bit too packed. Here it is as of right now:
Mars Needs Moms in 3D- March 11
Sucker Punch – March 25
Born to be Wild in 3D- April 8
Fast Five – April 29
Pirates of the Caribbean: On Stranger Tides in 3D – May 20
Super 8 – June 10
Cars 2 in 3D – June 24
Transformers: Dark of the Moon in 3D – July 1
Harry Potter and the Deathly Hallows Part 2 in 3D – July 15
Real Steel – October 7
Puss in Boots – November 4
Mission: Impossible – Ghost Protocol – December 16
The Adventures of Tintin: The Secret of the Unicorn in 3D – December 23
That's a pretty interesting schedule for a few reasons. First, it's insane to think that movies like Cars 2 and Mission: Impossible only get one week in IMAX but it makes sense when you look at the films that are taking over for them (Transformers and Tintin). Plus, just by looking at the windows we get a good idea of what film the IMAX company feels is going to be the year's biggest: Harry Potter and the Deathly Hallows Part 2, which has a huge window before the next scheduled film hits the schedule.
So how does Twilight fit in? The report from DreamWorks is very specific in saying Puss in Boots will only get two weeks on IMAX. But, as you can see above, nothing is scheduled for two-weeks later on the 18th. The 18th is the day that The Twilight Saga: Breaking Dawn Part 1 is scheduled for release though. Since Eclipse did so well in IMAX, I think it's safe to surmise that Breaking Dawn will be released in IMAX day and date, though it has yet to be officially announced (E-mails to Summit have not yet been returned as of press time). Plus, there isn't another film scheduled until mid-December so that gives Bella and Edward plenty of time to have sex on the really big screen.
As for Puss in Boots, it seems like a logical, big family movie to schedule early in the Holiday season as Real Steel definitely isn't going to need a month on IMAX screens. This new film acts as a prequel to when the tough cat first met the gang from Far Far Away. Here's the official plot synopsis:
Swords will cross and hearts will be broken in this adventure starring one of the most beloved characters of the Shrek universe – Puss In Boots (Antonio Banderas). It's a swashbuckling ride through Puss's early years as he teams with mastermind Humpty Dumpty and the street-savvy Kitty (Salma Hayek) to steal the famed Goose that lays the Golden Eggs.
Are you going to see Puss in Boots in IMAX? And, if a movie isn't shot in IMAX but is playing there, do you make a point to see it in the large screen format? Also, do you agree that Breaking Dawn will fit into that schedule?