Melissa Leo, Jesse Eisenberg And Tracy Morgan Join 'Predisposed'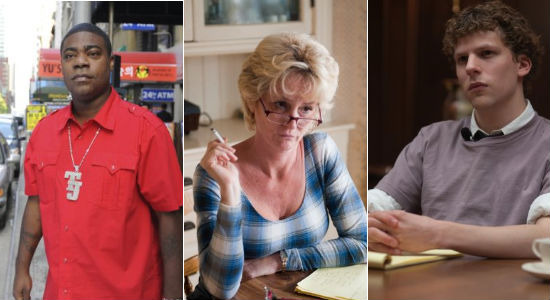 She won an Oscar, he was nominated for an Oscar and he's got an EGOT. They're Melissa Leo, Jesse Eisenberg and Tracy Morgan and they're all rumored to be joining Predisposed, a feature length version of a short film that starred Leo in which the relationship between a drug-addicted mother (Leo) and her college-bound son (Eisenberg) is explored. The short was co-written and directed by Philip Dorling but this feature will be directed by the other co-writer, Oscar-winner Ron Nyswaner (Philadelphia). Morgan is rumored to star as a drug dealer named Sprinkles. Read more after the jump.
Vulture reported the rumored casting of these Oscar-nominees and major television star. The original short played at the 2009 Sundance Film Festival but had its world premiere at the 2008 Woodstock Film Festival and they described it as follows:
Eli, on the big day of his college interview, has one small task to tend to before he can secure his scholarship. He has to take his mother Penny to rehab. When they learn that she cannot be admitted unless she is physically intoxicated, everything changes.
According to Vulture, in the feature length version, besides having to get his mother drunk on the day he goes to college, Eli and his mother are going to have to figure out some issues with the aforementioned Sprinkles.
I had the pleasure of covering the Woodstock Film Festival in 2008 when the $18,000, 15 minute film premiered, and I even spoke to Dorling in 2009 when he was at Sundance trying to expand Predisposed into a feature, which is now happening.
Here's a brief description of the atmosphere at that initial screening of the film:
The Woodstock Community Center was packed with folks who came to cheer the hometown kid with 'the longest eyelashes,' said his mom. And as the final credits rolled, and 'Philip Dorling' appeared on the big black screen, the crowd cheered.
And here's what Dorling had to say in 2009 about his then first time Oscar-nominee, Melissa Leo:
Melissa is really a humble kind of person and she doesn't really get involved in a lot of that like 'politicky' stuff. I'm extremely happy for her because she deserves it and has been putting in so much work for so long; it's awesome to know that she's getting recognized.
There's no doubt that Leo's championing of the film at that time, coupled with her newly minted Oscar clout, helped get this film made and these big named attached. Does this sound like something Eisenberg and Morgan fit in with as well?