Josh Brolin And Tim Burton Developing 'The Hunchback Of Notre Dame'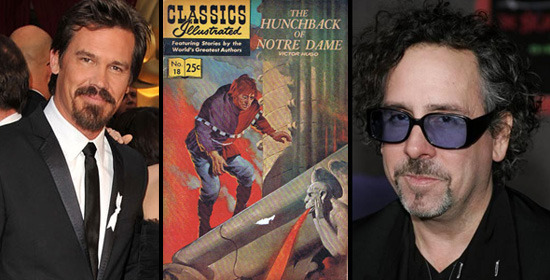 Tim Burton has a few big projects on his plate: he's about to direct a big-screen version of the supernatural soap opera Dark Shadows, and will be directing a feature-length update of his short film Frankenweenie. He is producing Abraham Lincoln: Vampire Hunter, and is attached to produce and/or direct several other films.
Now he has teamed with a major actor to make a new version of The Hunchback of Notre Dame, based on Victor Hugo's 1831 novel. Some of you might want to prepare for a shock, because the actor is not Johnny Depp, but Josh Brolin.
THR says that Mr. Brolin intends to star, and that he will produce. Tim Burton is basically lending his name to the project right now, but if he likes the script will perhaps become more involved after Dark Shadows.
That script will be written by Sherlock Holmes sequel writers Kieran and Michele Mulroney. We don't know precisely what angle they'll take on the material — strict period adaptation, action-oriented update with vague period vibe, or more modern approach — but their Sherlock Holmes credit for Warner Bros. certainly suggests the middle of those three choices. We can probably expect something very different from the animated Disney film, but whether the writers might draw on any of the other Hunchback film adaptations remains to be seen.
I have to admire the big balls on Josh Brolin, too. He went under latex for Warner Bros. with Jonah Hex, and that turned into a fiasco. Now he's looking at doing it once more, and with a story that has more than one iconic screen incarnation to stand up against. Tim Burton probably seems a good shield against the financial ruin of Hex, and hopefully the script will turn out good enough that this won't play anything like Alice in Wonderland.