The 2011 Summer Movie Season Begins Friday, March 4th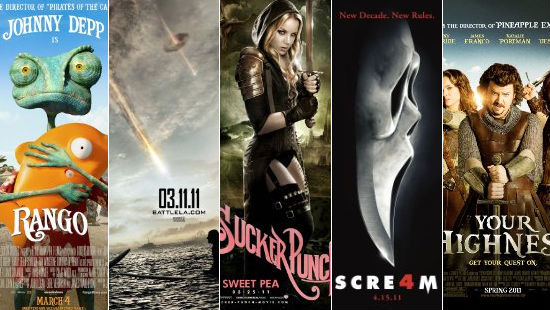 We thought global warming was heating up the planet, but really it's Hollywood. They're making it summer all year long. The first weekend of May is generally considered the beginning of the summer movie season but, as those three months got more and more crowded, that date slowly crept into late April. Now, 2011 changes that like never before.
So many potential blockbusters staked their claim on prime May, June and July 2011 release dates, in some cases, years in advance, Hollywood was forced to change its thinking more than usual. For the next two months, each and every weekend has at least one or two films that, in the past, would have easily been considered summer blockbusters and it all begins this Friday, March 4. So, is it crazy to say that the summer of 2011 begins in March? We don't think so. Look at the list of films opening between this week and Thor on May 6 and tell us that, in almost any other year, these movies would not be considered summer blockbusters.
Let's start with this weekend, March 4. The wide releases are Rango, The Adjustment Bureau, Take Me Home Tonight and Beastly. Rango is a big budget, animated film directed by Gore Verbinski and staring Johnny Depp. Enough said. The Adjustment Bureau has two huge lead stars, Matt Damon and Emily Blunt, in a Philip K. Dick adaptation (both Minority Report and Blade Runner were summer releases) and Beastly was, originally, scheduled for a summer release last year, but was bumped back due to Zac Efron. Take Me Home Tonight isn't quite blockbuster material, but we'll call it comedy counter programming.
Next week, March 11, is a no-brainer. Battle: Los Angeles is an action-packed alien invasion movie in the mold of Independence Day, one of the quintessential summer movies. Then there's Red Riding Hood, based on a classic fairy tale, with elements for all four quadrants including stars Amanda Seyfried, Gary Oldman and director Catherine Hardwicke. Finally there's Mars Needs Moms, which might look terrible, but is a 3D Disney animated movie. Those rarely are released outside of summer or the holidays.
Remember when dramas like The Firm and A Time To Kill were considered summer blockbusters? March 18 brings that back with The Lincoln Lawyer, starring Matthew McConaughey and an all-star cast, as well as Limitless with Robert De Niro and Bradley Cooper. There's also Paul, a broad sci-fi road comedy starring Simon Pegg, Nick Frost and Seth Rogen as a CG alien. Those all scream summer.
Zack Snyder might be the king of March releases but his movies are always big, summer-type spectacles. His latest, Sucker Punch, once again fits the bill. It opens March 25 and has some of the most insane visuals imaginable – very big budget stuff. Then there's also a sequel to a popular kids film, Diary of a Wimpy Kid: Rodrick Rules. Yes, they still make some live action kids movies and even release them in the summer (Honey, I Shrunk the Kids, for example.)
Heading into April, the 1st brings the high concept sci-fi film Source Code, another CG family film, Hop, and then, as counter programming, the horror movie Insidious by James Wan. Action sci-fi, animation and horror all on one weekend. Those are popular, summer genres if I've ever heard them.
April 8th has two huge comedies – Your Highness and Arthur – going up against an adult action movie, Hanna, and a teen-themed family film, Soul Surfer. The first two films in particular remind us of the days when comedies like Ferris Bueller's Day Off were considered big releases for studios, and the other two films are both very accessible to a huge cross section of the audience.
On tax day, April 15, Hollywood has two monster films opening that are so obviously would-be summer blockbusters, I don't even have to write too much about them: Scream 4 and Rio. A big time horror sequel and yet another 3D, CG animated film.
As we inch closer to "actual" summer, have I convinced you yet? Still need convincing that summer 2011 starts March 4? Well, how about on April 22 as a whopping five films have wide releases. There's the found footage sci-fi movie Apollo 18 (don't forget, back in the day, The Blair Witch Project was a summer movie), an Adam Sandler produced comedy called Born to be a Star, the new Tyler Perry movie Madea's Big Happy Family, Robert Pattinson and Reese Witherspoon at the circus in Water for Elephants and then a documentary called African Cats. The documentary aside, the rest could all obviously be summer movies in other years. The Sandler goes without saying, Tyler Perry's movies are box office monsters and Pattinson and Witherspoon are big time stars.
Finally, we come to the last weekend before "actual" summer, April 29, and what do we find? A film that was moved from the summer to avoid the competition, the fifth Fast and Furious movie Fast Five, in addition to – yet another – CG kids movie, Hoodwinked Too, a tween-themed Disney movie called Prom and Dylan Dog: Dead of Night, which is a comic book adaptation.
I think it goes without saying that there is at least one, if not two, films each and every week for the next two months that are obviously summer blockbuster material. And, if there's a summer movie coming out each week, wouldn't that mean March 4 marks the beginning of summer?
But where does this end? It could be argued that summer really started February 11th, with films like Just Go With It (Adam Sander comedy like Big Daddy), I Am Number Four (tween book adaptation like Twilight: Eclipse) and Hall Pass (Farrelly Brothers comedy like There's Something About Mary) all being released in subsequent weeks. Then there's the holidays, which are quickly becoming blockbuster central. That basically leaves only January. Sooner or later, it's going to summer all year long.
Dates: Box Office Mojo