First Footage From 'Larry Crowne' Starring Tom Hanks And Julia Roberts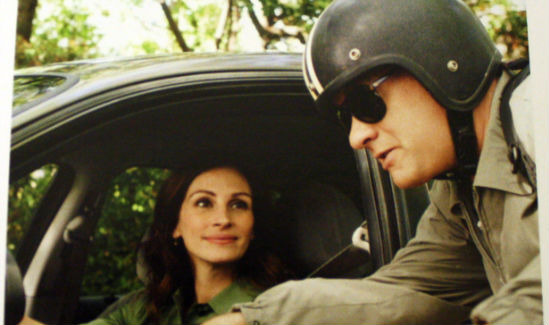 In a summer filled with superheroes, giant robots, boy wizards and 3D animation, it'll be interesting to see how Tom Hanks and Julia Roberts stack up. On July 1, the two mega-stars once again team up for the Hanks-directed romantic comedy Larry Crowne in an obvious instance of counter-programming. Hanks plays a guy who loses his job and goes back to junior college only to fall in love with his teacher, played by Julia Roberts. So far all we've seen of the film is a blurry still photo and a few set pictures tweeted by Hanks, but the star/director was on Jimmy Kimmel Live Sunday night with our first look at the film. Check it out after the break.
Cinematical pointed us toward the following clip, so a big thanks goes to them. Here's the clip, featuring a predictably charming introduction by Hanks.
The clip certainly brought a smile to my face. I love Hanks being all upbeat and humorous and I can't wait to see more of the film when we inevitably get our first trailer. However, we've now seen one clip and one still and they're both the same scene. Give us some more, Hanks!
Here's the official plot description of Larry Crowne. How do you think it'll fare alongside all the huge movies coming out this summer?
Oscar winners Tom Hanks and Julia Roberts reunite for a dramatic comedy about how the hard knocks from today's recession inspire one everyday guy to undergo a personal reinvention: Larry Crowne.
Until he was downsized, affable, amiable Larry Crowne (Hanks) was a superstar team leader at the big-box company where he's worked since his time in the Navy. Underwater on his mortgage and unclear on what to do with his suddenly free days, Larry heads to his local college to start over. There he becomes part of a colorful community of outcasts, also-rans and the overlooked all trying to find a better future for themselves...often moving around town in a herd of scooters. In his public- speaking class, Larry develops an unexpected crush on his teacher Mercedes Tainot (Roberts), who has lost as much passion for teaching as she has for her husband.
The simple guy who has every reason to think his life has stalled will come to learn an unexpected lesson: when you think everything worth having has passed you by, you just might discover your reason to live.