Boris Vallejo Creates A Great Poster For Killer Tire Movie, 'Rubber'
It can't be all that easy to sell a movie about a killer tire, but Magnet is really making an effort with Quentin Dupieux's movie Rubber, which has played several festivals over the last nine months and is available On Demand as of this past weekend. (Check out the trailer here.)
One of the best ways to sell it might be to key in on the simple stuff, like women and the sense of strange that pervades the movie. We've already seen a poster for the film, created by Olly Moss for Fantastic Fest, but this is an image in a totally different direction. Boris Vallejo was famously the cover artist for fantasy and sci-fi paperbacks, and has done occasional movie poster work over the years. (The first two Vacation movies, and the Aqua Teen Hunger Force movie, for example.) Now he's back to sell Rubber, and his image would have made me wonder what the hell the movie is all about, and that's probably exactly the point.
See the film poster after the break.
Rubber will open in theaters on April 1.
RUBBER is the story of Robert, an inanimate tire that has been abandoned in the desert, and suddenly and inexplicably comes to life. As Robert roams the bleak landscape, he discovers that he possesses terrifying telepathic powers that give him the ability to destroy anything he wishes without having to move. At first content to prey on small desert creatures and various discarded objects, his attention soon turns to humans, especially a beautiful and mysterious woman who crosses his path. Leaving a swath of destruction across the desert landscape, Robert becomes a chaotic force to be reckoned with, and truly a movie villain for the ages. Directed by legendary electro musician Quentin Dupieux (Steak, Nonfilm), aka Mr. Oizo, RUBBER is a smart, funny and wholly original tribute to the cinematic concept of "no reason."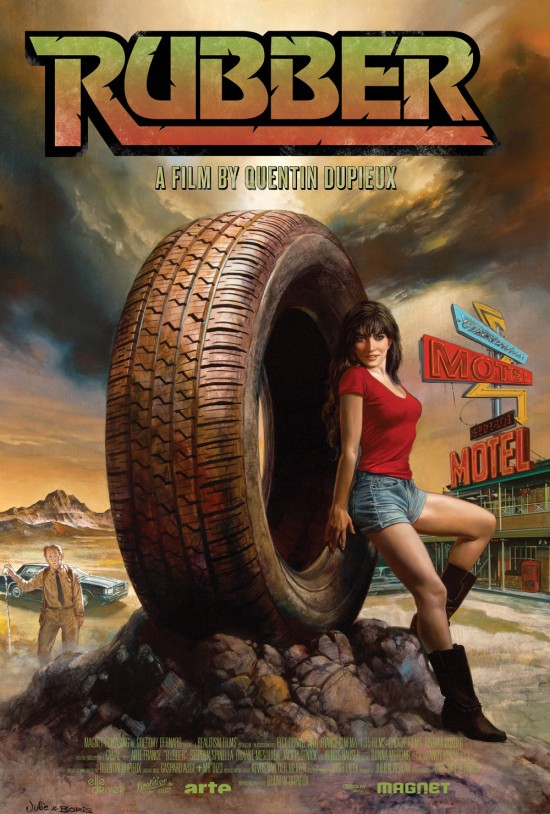 [HeyUGuys]