'Transformers 4' May Happen Without Michael Bay, 'Transformers 3' To Feature Mulleted Robot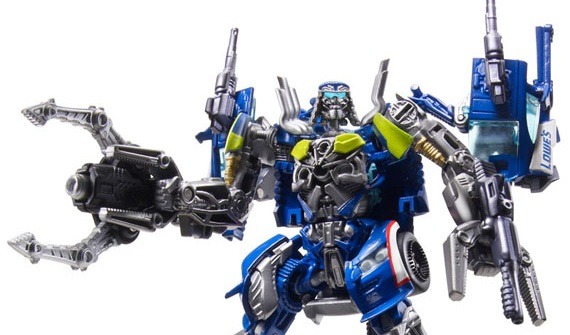 A couple pieces of Transformers news today: In news that will surprise absolutely no one, Hasbro CEO Brian Goldner hinted in a recent interview that Michael Bay's third and last Transformers film, the upcoming Transformers: Dark of the Moon, might not be the end of the film series. And in news that might surprise and upset a few people, Dark of the Moon may involve a robot with a mullet. Read more details on both stories after the jump.
But while Bay might intend Dark of the Moon as an ending of sorts, Goldner isn't so sure. While he hasn't explicitly confirmed a Transformers 4, Goldner gave this cryptic response to MTV (via MovieWeb) when asked whether Bay might return, and whether the series might continue without him if he didn't:
I would say to you right now that I've so enjoyed working with Michael Bay. (He) has got this incredible visual sense for showing you things you've never seen before. Perhaps he'll change his mind, perhaps he won't, but I'd rather put out this movie first then cross that bridge at some point.
But a theroetical Transformers 4 is still years off, and in the meantime, we have more pressing concerns — like the possibility of a mulleted Autobot in Dark of the Moon. Topless Robot's Rob Bricken recently noticed the alarming detail on one of the toys that Hasbro is launching for Dark of the Moon. The robot in question is Topspin (voiced by Bill Fagerbakke), who is part of the Wreckers team. I can't hope to improve on Bricken's rant, so I'll just quote from his piece here:
As an alien robot who's alternate form is a NASCAR car, he of course has a mullet. I look forward to him speaking exactly like Cletus the Slack-Jawed Yokel from The Simpsons, and making a joke about having sex with his sister Transformer.
Read the rest of his post at Topless Robot.
Meanwhile, Goldner had nothing but nice things to say in his MTV interview about the first Transformers film to feature a mulleted robot:
I really believe it is (the best film in the series), and the reason is because we've learned so many things as we've made [these films]. The fact is, there's a lot of story here...But we also understand the great spectacle of what 'Transformers' can be. It's a great marriage, but with greater meaning. The first trailer shows that the space race is a backdrop to something that had gone on in our past that nobody was aware of. In typical 'Transformers' fashion, it's all about more than meets the eye. That's the core of what 'Transformers' is: you can never judge a book by its cover. We're going to reveal to you, in much more of a thriller style than ever before, that idea of what's going on behind this whole 'Transformers' pre-history.
'Dark of the Moon' has many meanings. It's clearly what we know from the teaser trailer, but it's also this idea that there's darkness, a real cataclysm that could occur here based on knowing the truth of what's happening. If everyone had understood why each Transformer was in the movie, people wouldn't have cared how many there were. But once they're just these robots without any real meaning of why they're there, it just became robot melee, and that's not as enjoyable as knowing something about each robot and their personality so that when they do fight, there are stakes to it. That's really what was missing. It wasn't that there were so many robots; there were so many robots that you didn't know.