Watch 'Up' Director Pete Docter's Adorable Student Film 'Winter'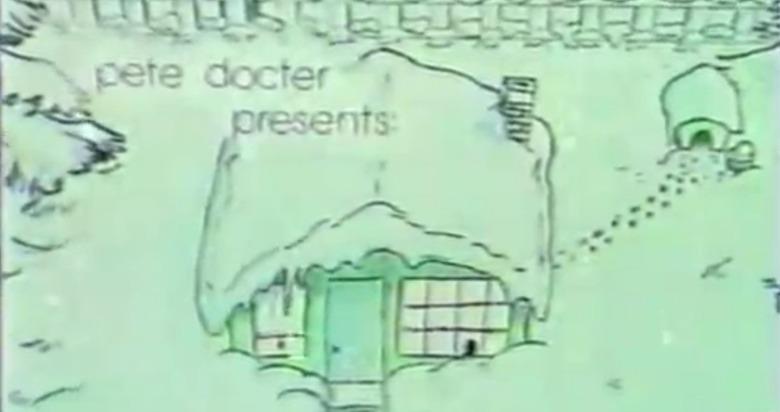 Tim Burton isn't the only notable director whose promise showed from early on — we have here a student film by fellow California Institute of the Arts alumnus Pete Docter, titled Winter. Docter, of course, is one of Pixar's most prominent staff members and is best known for directing Monsters, Inc. and Up. He has also done screenwriting and animation work on Toy Story, Wall-E and various other Pixar films.
In Docter's short film, a young child gets excited when he notices falling snow, only to find that once he's gotten into his winter clothes, he's so bundled up that he's unable to actually enjoy the snow. At just one minute and 36 seconds, Winter has probably the highest joy to time ratios you'll encounter all day. Watch it after the jump.
The rough, hand-drawn animation in Winter is a far cry from the sleek, high-tech graphics of Docter's best-known work, but Docter's talent doesn't need cutting-edge technology in order to shine through. With no words and few details, the images do most of the work, and they are delightfully expressive — check out the way the child's face stretches with glee when he first notices the snow. Docter's story is cute and funny, and it's one that all of us can relate to. Or that all of us who live in snowy climates can relate to, anyway. (Damn you, Floridians!)
Docter has been with Pixar since he graduated college in 1990, and was one of Pixar's earliest employees. He is currently working on a project to be released in 2013 or 2014. Few details about his new film have been revealed, but you can bet we'll be on top of it when the time comes. What we do know is that it's not Monsters, Inc. 2, no matter what the IMDb listing claims. Although no director has been confirmed for Monsters, Inc. 2 as of yet, the film is slated for a November 2012 opening.
Discuss: I am so, so, so tired of winter clothes, and Winter just drove this point home. Who's with me?