Jon Chu Picked To Direct 'G.I. Joe 2'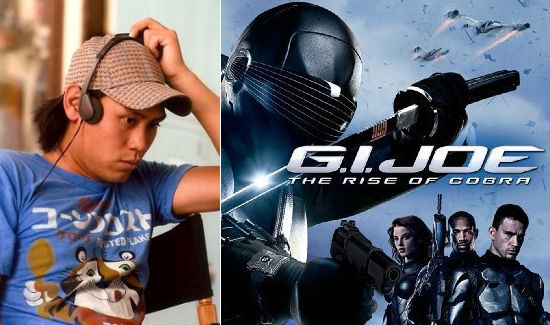 More late breaking news on a Friday night. Deadline is reporting that Jon Chu, whose director's cut of Justin Bieber: Never Say Never just opened, has been chosen to direct G.I. Joe 2, the sequel to G.I. Joe: The Rise of Cobra. As previously reported, Chu was one of the finalists along with Gary Grey and Jaume Collet-Serra, but the fact that his concert documentary is currently raking in the dough for Paramount seems to have locked up the job for him. And while the deal isn't totally finished, he's their choice.
Yesterday, we ran some quotes that showed just how passionate Chu is about the film. Read those and more after the jump.
Deadline broke the news of Paramount's choice of Chu to fill the director's chair and say that next on their list, armed with a script by Rhett Reese and Paul Wernick, is trying to get the actors to return:
I've heard the studio is starting with Channing Tatum, and trying to work out a deal for him to reprise.
Angie ran a story yesterday with quotes from Chu, who was promoting Never Say Never, that showed just how passionate and enthusiastic he was about directing G.I. Joe 2 :
The one thing I felt was missing from the last Joe movie was the power of the punch. You want Joe to be tough. They are fun, but they are tough. I feel that you don't want to make Joe too kidsie.
Also:
[G.I.] Joe, to me, is iconic. It is as American as Coke and the Boy Scouts. To have that kind of history in a brand is so rare these days. And that is so powerful. So you can't treat Joe like its just another action movie. You can't treat Joe as just another petty commercial movie. Joe has history. Joe has always been a part of what America is, and now the world. What it means to be a leader and a hero. For me, it is about the fun stuff like Storm Shadow and Snake Eyes, and all the gadgets. All of that stuff. But it has heart. Its heart is what America, and what heroes and leaders around the world, strive to be. I think that is what the brand needs. It needs the respect to be treated in that way.
What do you think? Is Jon Chu, the director of Step Up 2 The Streets and Step Up 3D, really the man who is going to get you screaming "Yo Joe?"